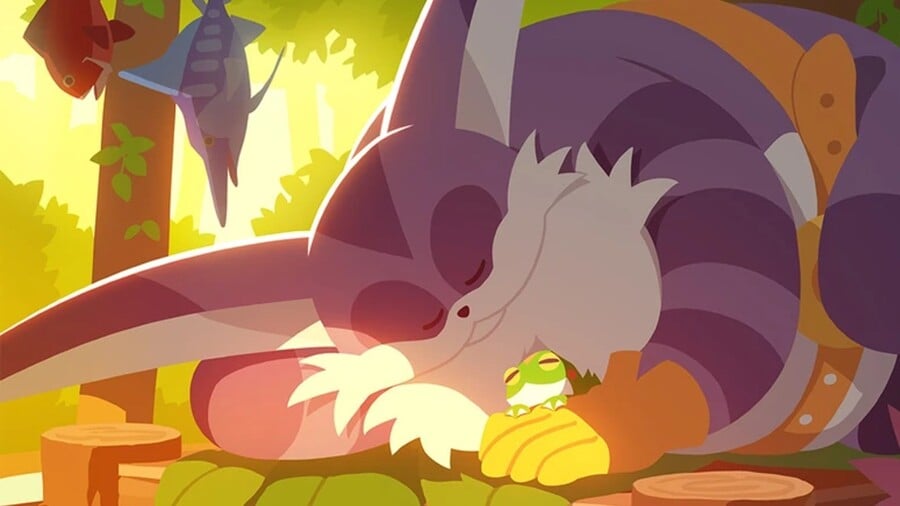 Everyone's favourite fishing feline is back! Big the Cat has been spotted in the Sonic Frontiers demo on the Gamescom showfloor, Eurogamer has reported.
Sharing the news on Twitter, @Bibouboul posted a photo of someone playing the demo with the large purple cat standing behind Sonic. The blue blur can also be seen holding Big's trusty fishing rod, which likely means we'll be getting some fishing minigames in Sonic Frontiers.
Interestingly, a datamine of Sonic Origins earlier in the year discovered some leftover files in for Frontiers that hinted at Big's inclusion in the game. This, along with the introduction of Koco, seems to confirm that the datamine was indeed accurate.
Big the Cat made his debut in 1998's Sonic Adventure on the Dreamcast, and he wasn't exactly popular. Big's chapter focused on him chasing his Chaos Emerald-eating frog and saving him through various fishing stages.
Game Informer went hands-on with the game back in June and came across Big the Cat in one of the game's Cyber Space portals — so it's likely a Sonic Adventure throwback just like the Green Hill Zone one we saw yesterday. Except here you'll be fishing instead of going fast. Or maybe you have to fish fast?
Big does have a bit of a fanbase nowadays, and the news seems to have garnered positive reactions online. We already know that Tails, Knuckles, Amy, and Eggman are returning, so we wonder what other Sonic characters we'll see. Perhaps it's time for Bark the Polar Bear to make a proper comeback in a Sonic the Fighters-inspired Cyber Space stage?
Are you happy to see the grand return of Big the Cat? Let us know in the comments!