I used to jailbreak my iphone back in 2011 & 2012. I used it mainly for the SBSettings, Activator, Winterboard and Springtomizer. I liked to play with the aspect of the phone. And I used a Cydia app called CarbonXHD to change the theme once.
Noooow here's the thing. I stopped jailbraking the iphone looong ago. But, no jailbreak in place, 4 ios's (or more) and 3 different iPhones later, the CarbonXHD app keeps following me, like a ghost, re-appearing eeeevery time I restart my phone: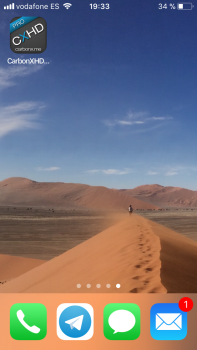 I cant open it of course. That's because the app is not install, its just the icon of the app, I know that. Oddly when I click on it, it tries to open a webpage, "carbonx.me/?sb=2", that doesn't exist. But anyhow, it doesn't matter how many times I delete it the icon, how many times I restore the phone, or reinstall a backup into a new phone, the iphone keeps creating the app icon when it restarts.
I know I could jailbreak the phone again and get deep inside the ios to find the file (and icon image) that keeps remembering CarbonXHD, passing it copy after copy, phone after phone. But:
Is there a way to fix this without jailbreaking the phone again?