Apple's iPhone 14 lineup is the company's most expensive to produce in years. A Nikkei Asia teardown of iPhone 14 models reveals that Apple took some of the production cost, slimming its profit margins a bit. Apple did not raise pricing of new iPhones in the US and some other markets, but it did for some key markets including UK, Germany, and Japan.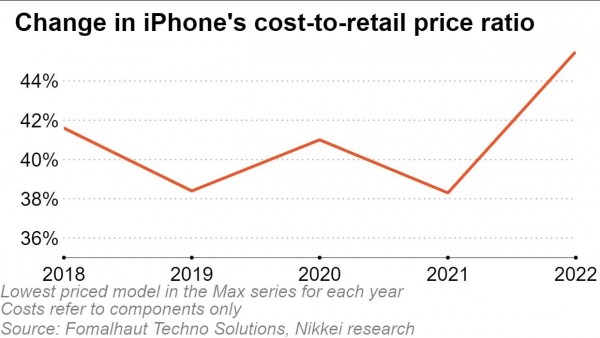 As per Nikkei Asia, the iPhone 14 sees an additional production cost of about 20%, an all-time high, across three iPhone 14 models. Niatake Kashio of Formalhaut Techno Solutions aided in the teardown research and examined that the iPhone 14 Pro Max's cost has increased by more than $60.
Formalhaut estimated the iPhone 14 Pro Max costs $501 in components, though iPhone Pro Max models' cost have normally landed between $400 and $450.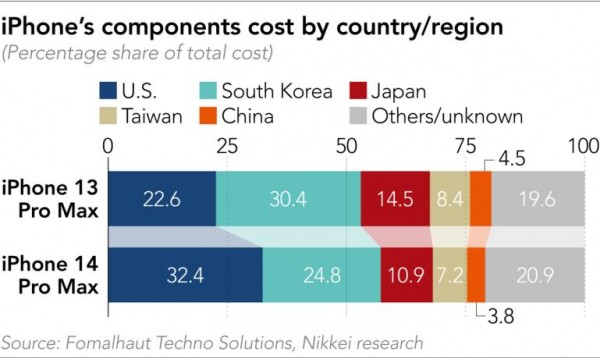 The iPhone 14 Pro and 14 Pro Max's A16 Bionic chips cost $110 each – which Nikkei points out was more than double the cost of the A15 Bionic. Only Samsung and TSMC are capable of mass producing 4nm chips. The iPhone 14 Pros also have new Sony-made camera sensors that are larger and capture more light. These have gone up about 50%.
Additionally, 32.4% more of the iPhone 14's components are coming from US suppliers (up about 10% from the iPhone 13), adding to the cost. The amount of South Korean components has dropped by 5 points to 24.8%.