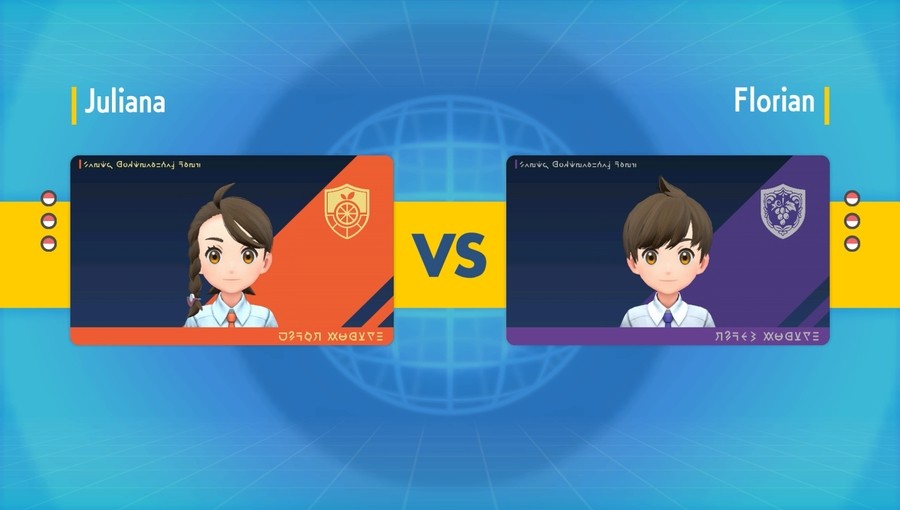 The closing ceremony of the Pokémon World Championships provided us with some more information on the creatures that we can expect to encounter in Pokémon Scarlet & Violet, revealing the new Dragon/Normal type, Cyclizar as well as some more details about the new Terrastalizing ability.
But the news doesn't end there. This morning, Nintendo has gone into a bit more detail about Scarlet and Violet's Battle Stadium feature, clueing us in on what game modes will be carried over from Pokémon Sword & Shield as well as revealing some original features.
Much like its predecessor, Scarlet & Violet's Battle Stadium will let you showcase your battle skills on the global stage. Sharing two screenshots of what we can expect this mode to look like on Twitter, this shiny new Battle Stadium menu contains the same three game modes that we saw previously in Sword & Shield and adds the 'Rental Teams' feature, which we saw in the Battle Tower.
While Ranked, Casual and Online Battles will allow you to choose how competitive you want to be based on your skill level, the 'Rental Teams' will again serve to shake things up a little. Previously, you had to go to the Battle Tower to input a code and get a Rental Team, but here, it looks like it's baked into the online menu instead. Once again, we assume that you will be able to borrow a Battle Team which has been shared via a code online, or upload a team that you think is particularly good for others to try out around the world — sharing is caring!
For more information on the 'Rental Teams' feature as well as a recap on what you can expect from the continued game modes in Battle Stadium, check out the following details from the official Scarlet & Violet site below:
Casual Battles
These are low-stakes battles in which results are not recorded. One appealing feature about these battles is that you can use any Pokémon.​
Ranked Battles
In these battles, you will be able to test your battle skills against Pokémon Trainers from all over the world. Your rank will change depending on your battle results. Trainers are sorted into tiers based on their ranks. If you can reach Master Ball Tier, the topmost tier, you'll have a chance to vie to be the best Pokémon Trainer in the world in fierce battles.​
Online Competitions
These are competitions in which Trainers can battle with other entrants.​
• Official Competitions​
Various kinds of rules may govern these special competitions in which you compete to see how high you can place in the rankings.​
• Friendly Competitions​
In this format, you can hold your very own competition or join one set up by other Trainers.​
Rental Teams
This feature lets you easily borrow Battle Teams by inputting IDs that have been shared online. You'll also be able to build your own Battle Team and make it available for Pokémon Trainers all over the world to use!​
It is worth bearing in mind that a full Nintendo Switch Online membership will be required to use the Battle Stadium feature and The Pokémon Company also warn that the features may not be instantly available to you until they release an early update to the game.
Will you be diving back into Battle Stadium on Pokémon Scarlet & Violet? Let us know in the comments below!