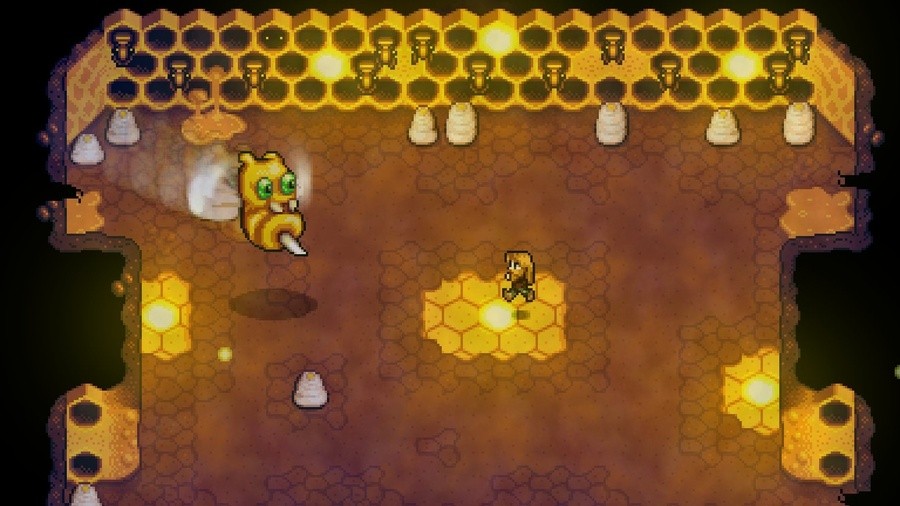 Stardew Valley creator "Eric 'ConcernedApe' Barone has already shared a new screenshot of his next project Haunted Chocolatier earlier this month, and now he's released another one.
It's perhaps the sweetest one yet – revealing one of the boss enemies in game. This one is simply referred to as "Bee Boss" for now, and as you can see above and below – it's a giant Bee!
Barone has even shared the music that goes with this fight via YouTube:
Earlier this month, Barone reassured fans this project was still well underway – mentioning at the time how progress was going "pretty good". In his latest comments, he's kind of shared a small update – stating how he's unable to say exactly how far into development he is, as he's just making the game as he goes:
"no idea what % it's at, and no there's no detailed plan. I have a vision in my head, a few random text files with loose ideas, and then I've just been making a game as I go"
Haunted Chocolatier was first revealed last October and is currently confirmed for the PC. Barone has said he has "every intention" to bring it to other major platforms as well, but there's currently no release date.
If we hear any updates, we'll let you know. What do you think of this latest screenshot and music track? Comment down below.