Sony's latest pair of TWS buds, the WF-1000XM4, are here and improve on their predecessors across the board. Part of that is thanks to the more capable Sony V1 chip, but the buds themselves have a better construction, which enables better audio quality and improved noise cancellation.
These are the first TWS buds in the wold to support Hi-Res audio over the LDAC codec (or so Sony claims). LDAC carries up to 3x the amount of data compared to typical Bluetooth audio. The DSEE Extreme feature uses AI to reconstruct compressed audio to something with "close to Hi-Res quality".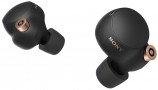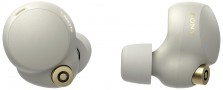 Sony's new WF-1000XM4 improve on every aspect of the WF-1000XM3
The more powerful V1 processor improves the active cancellation of high frequencies and achieves 40% lower noise levels overall compared to the XM3 generation. The new automatic wind detection can trigger the wind noise reduction feature.
Sony brought improved 24-bit amps, redesigned the driver units with 20% larger magnets and put them on a better diaphragm. The diaphragm is more flexible, which allows it to generate better cancellation signal at lower frequencies. It makes for better bass too, of course.
It's not just active cancellation, the XM4 model has better passive noise isolation as well. It comes with proprietary polyurethane foam tips that help attenuate noise. Also, the buds can determine how well they are seated in your ears and can guide you to adjust them for optimal results.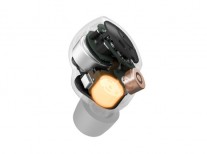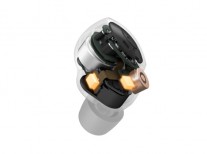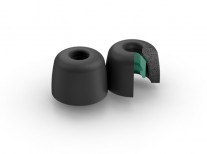 Improved drivers • Dual beamforming mics • Polyurethane tips
The new buds have some quality of life improvements, starting with fast pairing support for Android and Windows 10. The WF-1000XM4 can detect when you are speaking and automatically pause your music and enable Ambient Sound. This allows you to hear the other person clearly without taking the buds out. Sony calls this "Speak-to-Chat".
For voice calls each bud has a pair of beam-forming mics plus a bone-conducting sensor, the latter can pick up your voice clearly even in noisy environments. If you want to talk to a digital assistant instead, the buds have been optimized for Alexa and the Google Assistant.
Sony's V1 chip integrates Bluetooth connectivity and Noise Cancellation. On the XM3 generation these functions were achieved with two different chips. The new chip (which supports simultaneous transmission to each bud) combined with redesigned antennas lead to a stable, low-latency connection.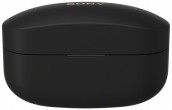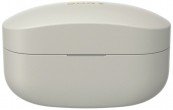 The slender carrying case supports faster charging as well as Qi wireless charging
The XM4 are smaller than the XM3 and lighter too, making for a more comfortable fit. Even so, they offer better battery life and can now last up to 8 hours of playback with noise canceling enabled (or 12 hours with it disabled). This is up from 6 hours on the previous generation (8h with NC off).
The smaller carrying case can recharge the buds twice, making for a total listening time of 24 hours (same as before, though the NC off endurance is a bit better at 36 hours). If the battery is flat, a quick 5 minute charge is enough for 60 minutes of play time. Even better, you can now use Qi wireless charging (e.g. from a phone that supports reverse charging), in addition to plugging in a USB-C cable.
The Sony WF-1000XM4 are available immediately for $280/€280, you can have them in Siler or Black. If that's too rich for you, the older XM3 will remain available at a lower price, $230/€200 (actually, they are discounted to $180 in the US right now and €170 in France, for example). Note that a few online stores in some locations are yet to list the new earbuds.