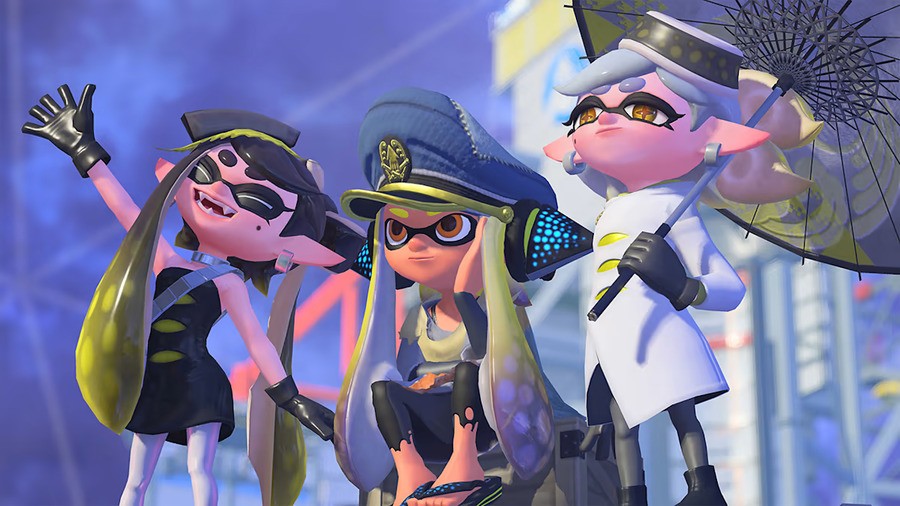 Ahead of the Splatoon 3 World Premiere Splatfest this weekend, Nintendo dataminers think they've uncovered something special. It apparently could be an official Splatoon world map, discovered alongside texture files associated with the in-game shop Ammo Knights.
The Splatoon series has always been filled to the brim with interesting lore, but this is potentially one of the most exciting discoveries yet — assuming it's the real deal. Discovered by @RAMDRAGONS and highlighted by @rassicas on Twitter, it looks like an altered real-world map and will surely please Splatoon lore deep-divers:
The same source explains that no text on this "normal earth but flooded" map is actually decipherable, unfortunately.
You can see the map for yourself in Splatoon 3's World Premiere Splatfest demo by heading into Sheldon's Ammo Knights store — it's on the back wall (just below the word 'Weapons' in the pic below), although be aware that it's pretty blurry thanks to the depth of field effect being used.
In fact, you can get a much better look at it by standing outside and looking in through the door:
Keep in mind, it's just a fan theory right now that this is actually The Splatoon World Map™, but it seems likely. Or perhaps Sheldon is a cartography enthusiast and skipped into our universe one afternoon to nab a world map for his wall?
What do you think of Splatoon's lore? Would a Splatoon world map be of interest to any Inklings or Octolings out there? Comment below.