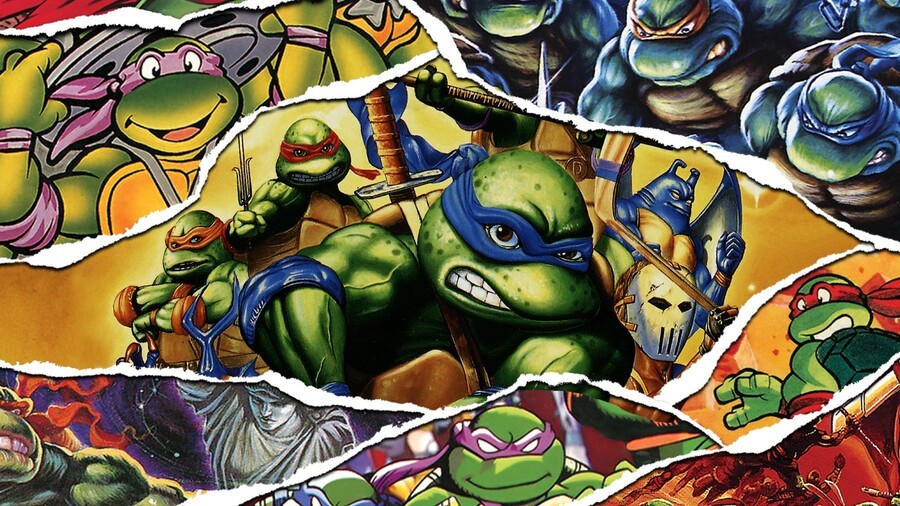 The latest Nintendo Download update for North America has arrived, and it's bringing new games galore to the eShop in your region. As always, be sure to drop a vote in our poll and comment down below with your potential picks for the week. Enjoy!
Switch eShop – Highlights
Teenage Mutant Ninja Turtles: The Cowabunga Collection (Konami, 30th Aug, $39.99) – Teenage Mutant Ninja Turtles: The Cowabunga Collection assembles 13 classic TMNT games by Konami in one incredible package. This collection provides an opportunity for gamers to experience these fan-favorite titles on Nintendo Switch, and includes new quality-of-life features like Online Play* for certain games and Local Couch Play, save anytime and rewind, button mapping and historic TMNT media content.
PAC-MAN WORLD Re-PAC (Bandai Namco, 26th Aug, $29.99) – First released in 1999, PAC-MAN WORLD saw PAC-MAN's exciting debut to the 3D platforming genre. Now, the remaster that fans have requested is nearly here! In PAC-MAN WORLD Re-PAC, PAC-MAN's family has been kidnapped! To rescue them, he sets off for Ghost Island. Trounce enemies with PAC-DOTS, the rev-roll, the butt-bounce and … a giant PAC-MAN?! From high-speed chases to galactic escapades, players will explore all sorts of zany levels.
Prinny Presents NIS Classics Volume 3: La Pucelle: Ragnarok / Rhapsody: A Musical Adventure – (NIS America, 30th Aug, $39.99) Join up with your pal Prinny to experience NIS history with Prinny Presents NIS Classics Volume 3: La Pucelle: Ragnarok / Rhapsody: A Musical Adventure. For the first time in the west, you can experience La Pucelle: Ragnarok, now loaded with extra content, including new scenarios, new recruits and DLC characters. It even has new voices, new music and quick travel, dood! Then, explore the precursor to the Disgaea series with the strategy-RPG Rhapsody: A Musical Adventure. Sharper graphics and image optimization bring this classic into the present. Experience NIS history with this awesome two-pack, dood!
Switch eShop – New Releases
ALIEN WAR (Game Museum, 25th Aug, $3.99) – In 2222 AD, only 5% of humanity survived the alien invasion. The aliens have begun their final attack. Defeat the aliens by firing the guns of the KPO9, humanity's strongest surface-to-air weapon. Intercepting enemies gives you EXP, which you can use to upgrade your weapon. The fully automatic missile pods that help you attack can also be upgraded. The future of humanity lies in your hands.
Aquadine (Ratalaika Games, 26th Aug, $19.99) – After his mother was hospitalized for an unknown disease, Robin Liyun works as a part-time gondolier to make ends meet, but under an alias named Ciel. As he finishes giving tours one night, a mysterious voice lures him to discover a beautiful mermaid. She dives underwater shortly after their encounter, which leads him to believe the Ancient Aquadine was real. Robin continues to live out his double life while making new friends and learning more about the merfolk civilization.
Back Again (eastasiasoft, 26th Aug, $2.99) – A surreal and punishing world of black, white and red awaits as you challenge the void of Back Again, a hardcore 3D platformer presented in immersive first-person perspective! In this void, your only means of escape is to cross floating platforms arranged in increasingly complex configurations. Obstacles move in patterns over and around them, forcing you to learn their movements to avoid getting knocked off a ledge or halted midair. Mannequins surround you, sometimes navigating the platforms themselves or simply observing. Perhaps they hold clues about the puzzles at hand, or perhaps they are just like you. Either way, they offer little comfort. Back Again is an eerie tale with a minimalistic narrative and unsettling atmosphere intended to test your skills, question your psyche and reward your determination, all set to a unique and ever-changing soundtrack to suit the mood.
CrashMetal – f Drift Racing Car Driving Simulator 2022 Games (Midnight Works, 18th Aug, $19.99) – Welcome to the definitive car racing experience in Cyberpunk 2077 style or Need for Speed (NFS) like old times far from 2022 games. Drive a sports car, and join the top street racing camp! Real extreme car racing has started now, select your new 3d racing car in new car games. This car game is a famous car driving game where the initial and final points are in a stadium that is full of thrills. This best car game is highly recommended for you. Realistic physics and tons of new cars with stunning quality that you could rarely experience in a drag racing game.
Createscape Town~Nyanzou&Kumakichi: Escape Game~ (AlignmentSharp, 25th Aug, $4.90) – Nyanzou is always making a ruckus. But it looks like he's quietly drawing today for a change. He's writing down all kinds of things he's always dreamed of like, "3 Meals, Nap Time, Snacks Included" and "No Homework". What in the world is he up to? This time, it's an escape game where you can create your own town! Try to escape by building a town while solving puzzles.
Criminal Expert (Forever Entertainment, 25th Aug, $9.99) – As a police investigator, you take on the task of explaining this mysterious event. Who is this person and what was she doing there? Will the circumstances of this case be easy to explain or is there something deeper going on in the story? You get only three days to complete the investigation. Listen to witnesses, gather evidence, order searches and track suspects. Pay attention to every detail – the further fate of the characters depends on you. Criminal Expert is a detective video game that puts you under the pressure of inexorably passing time. The story contains multiple selection paths, and you ultimately decide how it ends.
Drift Horizon Racing, Driving & Parking Trial Simulator Games (Midnight Works, 18th Aug, $24.99) – Become a legendary drifter! Tune and upgrade your car, install parts and boost performance! With a dozen of cars to choose from, get them on the track and test them out! Engines, suspensions, wheels and many other components are available to upgrade your car! Take part in awesome challenges that will test out your drifting skills! Drifting requires skill and patience! Improve your drifting technique on legendary circuits and maps! Drift around the city to find hidden bonuses and earn achievements! Try out different physics modes by choosing between Tarmac and Snow.
Dusk Diver 2 (Idea Factory, 30th Aug, $49.99) – Enter Taiwan's bustling district of Ximending, a destination for gourmands, music aficionados – and interdimensional beings intent on destroying this world! One year after saving humanity from dimensional destruction, Yumo and the Guardians of Kunlun take on new forces in a sequel packed with even more hack n slash gameplay. Switch control of four unique characters, get stat boosts from real-life restaurant meals, and tailor skills and Orb combos to suit your play style! Do you have what it takes to save humanity from these new forces of evil? – Read our Dusk Diver 2 review
Enduring Mountain (Weakfish Studio, 25th Aug, $5.99) – Enduring Mountain is 2D Adventure Game, Are you ready to start the adventure in these sacred mountains? Our main character is not loved in this geography, and even more so! But he has to save his captive friends, so he embarks on a long adventure. Would you like to join him in this adventure? Features; Relaxing combat mechanics, Designed story, Boss battles!
Escape game & Card search game R01M (AlignmentSharp, 25th Aug, $1.00) – Move through 3D space to find hints, solve mysteries and escape from the room. Anyone can play to the end because you can see hints and answers. Also, a card search game has been added as a bonus. Rankings that compete with people all over the world for the time they find. There is also a communication match that starts all at once and competes for ranking.
Forest Camp Story (Kairosoft, 25th Aug, $14.00) – The great outdoors are calling! Create and run your own campground in this business management sim. Get a lay of the land and find the best places to camp. Before you know it, customers will be setting up tents and taking pictures, making memories that will last a lifetime. But it's not all about peace and solitude. With activities like bird watching, fly fishing, and horse riding, there's no shortage of ways to show your campers a good time! No camping experience? No problem! Set up guided tours to show new campers the ropes, and they'll soon be coming back for more. If you play your cards right, you might get visits from rabbits, squirrels, and other cute critters too! Don't be afraid to branch out and grow your business. Set up a camping goods store in nearby towns to earn extra cash and attract new customers.
HAAK (Blingame, 25th Aug, $18.90) – · Apocalyptic wasteland In terms of art style, HAAK uses old-school graphics and dark tones to present a desolate scene of ruins, which is in line with its background of the apocalyptic wasteland, aiming to bring players into the future of the eschatological world to experience that sense of desolation.
Hidden Shapes: Black Skull + Old West (QUByte Interactive, 25th Aug, $3.99) – Hidden Shapes: Black Skull + Old West is a collection with two beautiful and relaxing minimalist hand-drawn jigsaw puzzles that have two options to choose from, "Pirates" or "Cowboys". Both games in this bundle have similar features and gameplay, in the Black Skull edition, the player will have the opportunity to play with elements of the classic jigsaw puzzle in a lot of Pirates-themed puzzles. In the Old West version, the player will have the same features, but with different levels and now with a diversity of Cowboys-related puzzles. Both games are created exclusively for you to rescue your tranquillity and to be amazed by beautiful art for each puzzle solved, using abstract and minimalist elements!
I Was a Teenage Exocolonist (Finji, 25th Aug, $24.99) – The Choices You Make, Make You Growing up in humanity's first extrasolar space colony means navigating a new world full of wonder, danger, and beauty. Explore the wilderness, study, fall in love, discover strange creatures, and deal with the consequences of your actions. Your choices will directly affect the lives of your friends and the fate of the colony. What kind of world will you help make? Will you survive to enjoy it? Why do you remember doing this before? Growing Up on an Alien Planet You have your whole life ahead of you. Will you spend it studying in school, or diving into the intriguing flora and fauna of this new world? Will you introduce space-age technology, or live in harmony with nature? Will you battle massive beasts, or nurture future generations? Realized in brilliant watercolor, the world of Vertumna is yours to explore.
Idol Manager (PLAYISM, 25th Aug, $24.99) – You take on the role of manager at a small (but growing!) talent agency. As you cultivate and train the newest generation of young pop stars, you'll have to decide who to hire and who to fire, who gets promoted when things go well and who gets reprimanded when things get sour. The personal lives of these young celebrities are a part of your business, and the life of a pop star isn't always a happy one. Their crowning personal achievements can be your greatest commercial successes, but their emotional meltdowns and PR nightmares can spell financial disaster for your company. It's not just the idols you have to worry about. The world is full of gossip magazines, super fans, and rival groups, all thirsty for a scoop on the latest scandal. There's a lot of people who want to tear you down and are willing to play dirty, but try not to let it get to you. It's not personal, it's business.
Kofi Quest (HYPETRAIN DIGITAL, 25th Aug, $19.99) – You'll control Kofi, a weak, lazy and unlucky videogame character that will be followed by a group of interesting (and pathetic) characters aiding him to live a great adventure. Game features: Videogame characters that know they're videogame characters. Mechanics from RTS, RPG and graphic adventure. Explore Neighborwood and uncover loads of secrets. Real-time combat similar to Action RPG' with troops control. Gear your troops up to achieve victory. Troop Captains with special skills. The story will immerse you in a comic adventure with tons of situations and characters. Voice acting! Cool soundtrack inpired by JRPG. Your sword's broken and your best friend's a booger, but you can ride a direwolf.
Laboratory Rat Escape Simulator Pro (Clockwork Moon, 18th Aug, $4.99) – Explore countless laboratory rooms! Crawl into the wall space and navigate through the randomly generated maze. Use your tail to propel your rat friends at enemies! Tell the time with the inbuilt clock! The TIME!!
Lair Land Story (PQube, 19th Aug, $14.99) – When Herol finds Chilia, a mysterious, magical girl, who has saved his war-torn city from destruction, she seems to have lost all memory of her heroic feat. With no recollection of her previous life and powers, he decides to take her in. You, as Herol, must now raise Chilia over the course of four years, plan her day-to-day life, and help her develop her character and skills! Help Chilia become a young woman with a bright future and embark on a journey to find the woman of your own dreams – from your childhood sweetheart to the chief of guards, it's on you to decide who your heart belongs to. Chilia's fate and your own future now lie in your hands.
Like No Other: The Legend Of The Twin Books (Actoon Studio, 25th Aug, $18.99) – Dan is a bumbling first-time adventurer who risks everything to solve the legend of the twin books by exploring the abandoned town of Red Pines. Legend has it that a talented artist replicated the Spirits' Book, and the replica was so perfect that the museum staff mistakenly left the original behind during the evacuation of Red Pines. After learning of the legend, Dan decides to check if it's true, and recover the book if it is. Join Dan on this light, family-friendly quest and help his love for adventure thrive.
Logic Pic: Complete Bundle (naptime.games, 19th Aug, $6.99) – Use your brain power to solve nonograms and reveal wonderful pictures. Logic Pic: Complete Bundle comes with all the puzzles and themes you can think of!
Mahjong Minimal (Hook, 26th Aug, $4.99) – 100 hand-made Mahjong puzzles. Beautiful abstract visuals. Full touch screen support. Multiple light and dark color themes. Ambient relaxing soundtrack
Miss Kobayashi's Dragon Maid: Burst Forth!! Choro-gon ☆ Breath (Aksys Games, 25th Aug, $39.99) – After receiving a cryptic email, Miss Kobayashi and her maids go to Takiya's house to investigate. There they are mysteriously (and overdramatically, let's face it) sucked into the PC. Help them clear stages by banding together and using their wits to defeat the computer. Use a 3-fold attack or Tag system to defeat the enemy and escape the game!
Moorhuhn X – Crazy Chicken X (Higgs Games, 25th Aug, $6.99) – Moorhuhn X is back – also known as Crazy Chicken X and Chicken Hunter. The number 1 classic among the Moorhuhn shooters brings lots of shooting fun with lots of chickens and just as many puzzles to the Nintendo Switch™. Moorhuhn X has topped the charts for years. Whether with touch, controller or motion control, the boredom is over from now on!
Narona Sports (Cokoon, 25th Aug, $9.99) – Cute and Fun sports game to enjoy with family and friends! Narona is a county known for its numerous and beautiful forests. In them, young people meet to practice their favorite sports. At Narona Sports you will discover together with them what it is like to play well-known sports in a slightly. . . different environment. Enjoy five sports, including the popular soccer, volleyball and basketball. The simple controls will make you master the game in a matter of minutes.
NHRA Championship Drag Racing: Speed for All (Game Mill, 26th Aug, $44.99) – NHRA™ is back – bigger and better than ever! Immerse yourself into the teams, tracks, tuning, and strategies, then strap into the driver's seat in your ultimate quest to become the Champion among the true Beasts of the Strip™.
Organic Engine (RandomSpin Games, 18th Aug, $0.99) – NHRA™ is back – bigger and better than ever! Immerse yourself into the teams, tracks, tuning, and strategies, then strap into the driver's seat in your ultimate quest to become the Champion among the true Beasts of the Strip™.
Puzzle Galaxy: Drawings Bundle – 50 puzzles (naptime.games, 19th Aug, $6.49) – With this bundle you can get 50 NEW jigsaw puzzles to assemble in two DLCs: Space & Steam and Cuteness Overload. Puzzle Galaxy: Space & Steam adds 28 NEW jigsaw puzzles with space and steampunk themes
Romantic Date: The Perfect Boy (Cooking & Publishing, 18th Aug, $3.99) – The excitement of the first date, the nerves, not knowing what will happen? it's a very special day. The first time is important to make a good impression and show that you are someone you can trust, so in this game you will have to answer all the questions of your date without making a mistake. If you lie or take too long, he will doubt you and you will not conquer his love.
RPG Time: The Legend of Wright (Aniplex, 18th Aug, $29.99) – Game master Kenta's notebook holds a handwritten RPG made just for you. Every turn of the page brings thrills, heroics, and a whole lot of fun! After school, the classroom transforms into the world of "The Legend of Wright," an RPG designed by young aspiring game maker Kenta. As you make your way through the game, crafted by Kenta from drawings and cardboard and stationery, you'll see that it's so much more than "just" an RPG. Despite the name, RPG Time also features everything from action to adventure to bullet hell to turn-based battles! It's a treasure chest stuffed full of fun, and there's no telling what Kenta will pull out next. First dreamed up 15 years ago, then brought to fruition through more than 9 years in development, RPG Time has been praised for its boundless innovation and creativity, receiving several awards from game development festivals around the world such as Tokyo Game Show, Taipei Game Show, BitSummit, and more. – Read our RPG Time: The Legend of Wright review
SD GUNDAM BATTLE ALLIANCE (BANDAI NAMCO Entertainment, 25th Aug, $59.99) – In SD Gundam Battle Alliance, Mobile Suits and characters from across Mobile Suit Gundam history take center stage in this all-new action RPG. • A Battle Alliance to Correct a False World The story takes place in G: Universe, a world where Gundam canon twists and turns in ways no one can predict. To correct this world's distorted history, the player leads a 3-unit squadron consisting of Mobile Suits and pilots from across Gundam history – a true Battle Alliance.
Spin Path (Entity3, 19th Aug, $0.99) – Get addicted to this fast-paced racing game! Excellent graphics and an endless supply of levels will keep you hooked Get the frenzy star and smash your way to the goal!
Super Gravity Ball (Upside Down Bird, 18th Aug, $9.99) – As a little green sphere you will be met with a multitude of obstacles and puzzling difficulties barring the way to your precious portal. Every victory takes you closer to a new world, each with its own machinations. The gameplay involves a multi-plane puzzling approach that will challenge your forethought, nerves, and precise platforming. A sequence of commands in the upper portion of the screen allow you to manipulate gravity in order to navigate the mounting hardships presented to you. However, be warned. Each gravity command may only be used once, and in the order they're presented. Choose carefully.
Tee Time Golf (Barkers Crest Studio, 26th Aug, $24.99) – Hit a hole-in-one with Tee Time Golf! EXCITING FEATURES Enjoy a relaxing round of golf on any of the 9 beautiful 18-hole courses. Play with 1-4 players locally. Swing a Joy-Con™ or use the controller to hit the ball. Earn coins to customize your golfer's outfit and gear. Gain experience to level up and blast 300-yard drives. Complete all 59 challenges to unlock additional gear and NPCs. Jump into the course designer and build the golf course of your dreams and share it with others. 3 Gameplay Modes: Stroke Play, Last Golfer Standing, Practice Tee Time Golf offers a fun experience for gamers of all ages and skill levels.
The Bonfire: Forsaken Lands (FredBear Games, 25th Aug, $7.99) – Build your settlement in a snowy encampment and manage workers and resource to survive monster attacks during nights. Slowly you will gain access to advanced building and crafting options discover and trade with new civilizations and discover the secrets of the ancients. The Bonfire combines role-playing gameplay with strategy and survival elements to explore a fantasy world and unlock its secrets. Would you hire more farmers to feed the people or employ guards to protect your people from invasive monsters? Every decision and strategy you make will determine the survival of your civilization. Will you survive or perish?
Timberman: The Big Adventure (Forever Entertainment, 18th Aug, $4.49) – Follow a lumberjack's story and join him on his way to help his bear friend reunite with family. Challenge the Evil Corp to rescue your friends and save the entire forest from the hands of industrialization. Fly on your axe to progress, use it to chop wood, build bridges, and solve mini puzzles. Fight your way through three colorfully and yet deadly worlds, beat dozens of levels, and face three unique bosses in epic battles. Play the single-player story mode or take your friend on an adventure with you in a 2 player co-op mode. Remember: to be a real hero you won't need much – being a big-hearted lumberjack equipped with a sharp axe is just enough.
Tinykin (tinyBuild, 30th Aug, $24.99) – Milo arrives on Earth to find that he's way too small, everybody's gone and a day hasn't passed since 1991! Team up with the mysterious tinykin and use their unique powers to create ladders, bridges, explosions and a lot more! Find a way home through a sprawling ant-sized metropolis, and unravel Earth's biggest mystery!
Train Ride Simulator (Lunaria Games, 18th Aug, $9.99) – Do you like train and railroad driving simulation? Train Ride Simulator lets you drive the iconic locomotives on high-speed services, on long freight runs or in precise commuter traffic. Show great control, carefully managing power, speed and brakes, and be careful not to derail your train. Feel the thrill of a hyper-realistic train simulation game.
WorldWide FlightSimulator (Airror Studio, 25th Aug, $24.99) – Take off and land at more than 10,000 real airports all over the world. Choose one of 7 different airplanes to start your journey with. Discover Norway, the Andes or Tanzania. The sky is the limit!
So that's your lot for this week's North American Nintendo Download. Go on, be a sport and drop a vote in the poll above, and comment below with your hot picks!