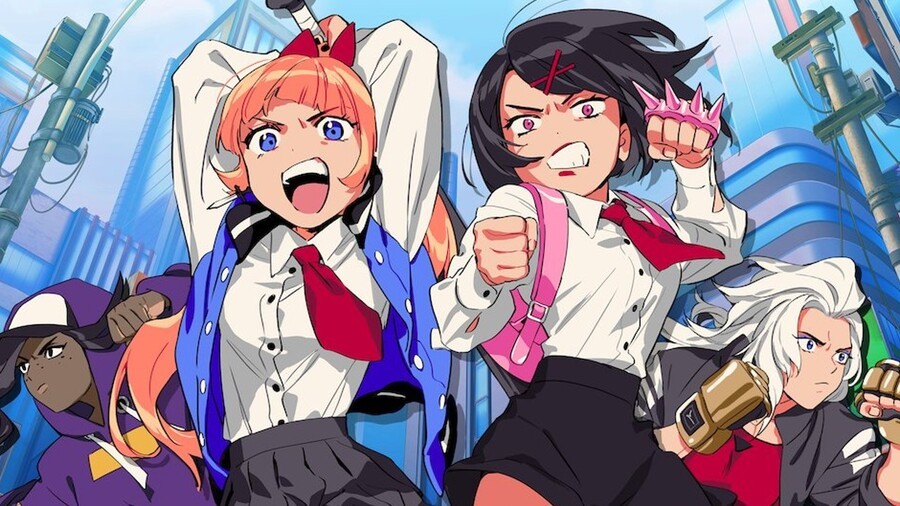 The latest Nintendo Download update for North America has arrived, and it's bringing new games galore to the eShop in your region. As always, be sure to drop a vote in our poll and comment down below with your potential picks for the week. Enjoy!
Switch eShop – Highlights
River City Girls 2 (WayForward, 15th Dec, $29.99) – The River City Girls are ready for round 2! When an old foe resurfaces, Misako, Kyoko, Kunio and Riki – joined by newcomers Marian and Provie – hit the streets for a new beat-'em-up adventure packed with new abilities, enemies and environments! Team up for local* or online** co-op, then pound punks into the dirt with new guard-crush attacks, lift-off combos, double-team maneuvers and other knuckle-busting techniques. Level up to earn new moves, buy items and accessories in more than 30 shops, and recruit defeated foes and hired heavies to help you on your way. River City is bigger than ever, with more locations to explore, more objects to destroy and a day-night cycle. With non-linear gameplay, a dynamic story system and another epic soundtrack by Megan McDuffee, River City Girls 2 will keep you brawling until all your enemies yell, "BARF!" – Read our River City Girls 2 review
Switch eShop – New Releases
Aero Striker – World Invasion (EpiXR Games, 19th Dec, $9.99) – Be ready for an action-packed twist on our "Aery" series. The whole premise is to enjoy yourself and relax after a stressful day of work while shooting evil aliens that are trying to take over the world. The game is a highly stylized action-packed flight combat simulator game that is intentionally designed to be easy to make it more enjoyable and less nerve-racking. Therefore, the aim is not to be challenging but to have fun making aliens explode while experiencing the sensation of flying.
Aery – Path of Corruption (EpiXR Games, 15th Dec, $9.99) – The world is beautifully big and abstract and generally represents all thoughts that the protagonist has regarding his future. Each level represents a different path that the protagonist could take. Discover the different paths, find their possible outcomes, and find a good future for your new friend. Within the world, each level represents a different path that the protagonist could take and your task is to discover the different paths, find their possible outcomes, and help find a good future for the unknown protagonist. Within this imaginary world, you have to find a certain amount of memory shards to advance with the story and unlock more possible paths into the future. Once you have found all memory shards you are free to explore the next paths.
Arcade Archives PAC-MANIA (HAMSTER, 8th Dec, $7.99) – "PAC-MANIA" is an action game released by NAMCO (Bandai Namco Entertainment) in 1987. Seven years after the birth of PAC-MAN in 1980. . . Finally a sensational debut in 3D! The glutton PAC-MAN jumped to dodge the chasing GHOSTS and continued to eat PAC-DOTS today.
Cassiodora (Plug In Digital, 15th Dec, $16.99) – Princess Cassiodora has been kidnapped by the evil sorcerer Kenzar. To save her the chosen knights Agni, Colden and Luken must face a vast army of witches, ghosts, and demons across the Kingdom of Astoria. To accomplish this feat, the druid Faramix grants Agni, Colden and Luken magic wings and elemental powers to help them on their quest. Play with your friends or solo and shoot your way through this colorful shoot 'em up. Earn new items, customize your character, challenge yourself and face huge bosses. Story mode Play solo or with up-to 2 of your friends on the same screen and explore 7 regions through 35 handcrafted levels each one with their own setting, challenges, special rewards and unique items. Enjoyable for all Choose between different levels of difficulty ranging from Easy to Hard or define your own experience. Want to be invincible or be revived when you die? That's done !
Chubby Cat 2 (GAME NACIONAL, 17th Dec, $6.99) – A fat cat who loves to eat all day is back now in this game even better than the first! Cut the wool yarn precisely to feed this lazy cat. This game is suitable for all age groups. You will have a lot of fun!
Coloring Pages: Lumberhill Tales (All In! Games, 8th Dec, $0.00) – Iron your flannel and prepare your painting brush! Get ready for an incredible ride around the world in Coloring Pages: Lumberhill Tales. You decide the colors of each scene with a wide variety of colors, textures, brushes, and stamps. The game is made up of 6 exciting coloring pages. Work your way through each illustration and unlock the next one by coloring each scene and gathering axes. Don't forget to color in the background of each chapter too! You can find more coloring pages in 2 DLCs. In Coloring Pages: Lumberhill Tales you get: – 6 different coloring pages to color in – A Free Paint Mode that lets you draw and paint whatever you want – A Background Painting Mode to have fun with scratch cards – Lots of colors to choose from and multiple brushes, textures, and stamps – A gallery to save and display all your favorite creations in
Cosmo Dreamer (Waku Waku, 15th Dec, $8.20) – What is Cosmo Dreamer? A dreamy pop-art shooting game. A young girl sets off on a journey across the universe driven by pure curiosity. Venture on as you face various hurdles, fierce foes, new friends, and difficult goodbyes. Just what sort of dazzling sights will you set your eyes on in this game? No need to be shy in this shooting game. The game is perfectly balanced so that everyone from absolute beginner to professional sniper can join in the fun. Game Features: ・Customize the main character's skills to play to your liking. ・81 total combinations. . . or even more? ! ・Play three different difficulty levels depending on your skill. Those who are really skilled can take on a fourth level. ・When you complete a stage, the next stage will be unlocked. Make your way through all the stages little by little. ・The hidden Trial Mode allows you to play with old-school arcade rules.
GyroBlade (Tendokore, 19th Dec, $4.99) – An arcade-style pixel art 2D vertical scrolling shooter. As retro as it gets. Shoot straight, collect points, power up your weapons, and destroy oncoming enemies and bosses. Choose your difficulty level and make your way through eight challenging stages.
Headbangers in Holiday Hell (Ratalaika Games, 21st Dec, $5.99) – You didn't buy a hideous woolly jumper. You didn't buy, gift and receive enough presents. Worst of all, you didn't even get a Christmas tree! Now Santa Claus is sending his craziest minions to quell your non-conformist antics. Let's introduce them to the untamed power of Heavy Metal! Headbangers in Holiday Hell is a twin-stick roguelite full of heavy metal and comedy. Free your fellow Headbangers from hordes of insane Christmas critters, and then it's time to take on Santa Claus himself!
Hero Hours Contract 2: A Factory for Magical Girls (Stephen OGorman, 15th Dec, $1.99) – Once upon a time, a girl made a contract with a magical familiar, in exchange for amazing powers. Unfortunately, their familiar was a massive jerk, forcing them to fight evil at all hours without pay. So the girl and her friends decided to unionise against their familiars, seizing the magical means of production! Magical Girls VS The Gig Economy: Join the Magical Science Angel, Genius Beauty Knight and Magical Girl (Provisional) 917B (Just call her 'Bea') as they navigate the free market of Magical Girl heroics. Magical Girls are mysteriously disappearing, a suspicious new App has monopolised the magical job market, and something seems to be draining all the electricity in the city. . . Magical Girls VS Late Stage Capitalism: – Take on the brainwashed zombie hordes in tactical, grid-based combat. – Build the Cooperative Union of Magical Girls (and friends) by recruiting and training new magical recruits.
LogiKing (FuRyu, 15th Dec, $14.99) – LogiKing is a game where you utilize the effects of 10 cards numbered 0 to 9 and deduce your opponent's hidden cards! The rules are simple but have depth to allow for strategy and tactical thinking against your opponent. Ascend the throne and become the King of Logic! In Single Player mode, learn how to play the game while facing off against AI opponents. Once you are ready, put your logical thinking skills to the test in a multiplayer match! Fight against players across the globe as you aim for the top in Ranked Battle mode, or enjoy a casual match with a random opponent in Friendly Battle mode. You can also play with your friends in an online Private Battle, or meet up in person and battle on your Nintendo Switch consoles over a local wireless connection!
Mind Jab (Tackorama, 20th Dec, $7.00) – Mind Jab is a both a race to build enough sanity and/or resources to win and a challenge to avoid losing all your sanity. Take turns to play (or discard) a card from a hand of 6 cards, earning resources, dealing damage, and building bonuses. Use empathy, diplomacy and rationality to boost your own mind, weaken your opponent's, and build enough sanity to win. Do you rush for early destruction of enemy's sanity? Or play sanity boosting cards to protect yourself from harm? Is resource generation your preferred strategy? Do you play a lesser powerful card in order just because it's type matches the synergy star? Or do you decide your mind's fate with each new turn? Mind Jab features a deck of approx 100 cards, all unlocked, all unique, all original, all equally mad. Cards cost 1 of 3 resource types to play. For roughly half of all the cards, the resource type is randomly chosen every time that card is drawn (the cost never changes).
Mojito the Cat Christmas Edition (RedDeerGames, 9th Dec, $9.19) – Become a fierce shark, an angry bull, a mighty rhino or a fluffy panda. With the Christmas DLC, you can also feel the holiday spirit.
Mysterious Retro Games Bundle (Baltoro Games, 16th Dec, $9.99) – Get an unhealthy dose of nostalgia with two titles which will revoke memories of early console games: – In Fatum Betula you will enter a world without a past that is sure to spark feelings of nostalgia, childlike fear and wonder. – Mysteries Under Lake Ophelia – A strange little place full of fish from all around the world. Go ahead, sink your lure and see what you can catch. Both are made using stunning retro 3D visuals. WARNING! This title contains infrequent cursing and themes of nihilism, death, and abuse. This game also contains flashing images and lights that may trigger seizures for those with photosensitive epilepsy.
Napoleon Maiden Episode.1 A maiden without the word impossible (moesoft, 16th Dec, $24.99) – Having been saved by this "Napoleon" in the form of a girl, Shoichi ends up accompanying her on her quest. But in this world, not only is the past distorted, but the gods grant chosen girls the gift of greatness, who in turn fight one another using superhuman abilities known as "Tenkei." Will Shoichi be able to return to his own world? And what will become of his growing bond with Napoleon?
Package Inc (Nerd Monkeys, 21st Dec, $4.99) – Connect between different hubs and destinations, like factories, police stations, cafes, libraries, boutiques, saloons, hotels, pizzerias, pet shops or schools. As new hubs become active, an increase in demand will occur. You must upgrade and redistribute destinations to keep your cargo system flowing.
Panda Punch (Ratalaika Games, 16th Dec, $4.99) – Panda Punch is a puzzle platformer game in which you have to control a bionic armed red panda and save the world from evil alien robots. Along the way, you'll solve puzzles on the levels, collect coins, look for super coins, and increase your abilities with the assistance of the blacksmith. Get ready to defeat intimidating bosses, and obtain innovative new abilities. Featuring 58 levels packed with traps, secrets, and enemies, there is so much to explore and discover. Can you use your skills to help this red panda become a hero?
Puzzle by Nikoli S Nurikabe (HAMSTER, 8th Dec, $4.99) – In this super popular puzzle, black spaces and white spaces slowly come together to show their true form. "Nurikabe" is a puzzle in which you refer to the arranged numbers to fill in all of the spaces. It's popular with a wide range of players, from beginners to experts. It feels great watching the black spaces stretch out like a soft-bodied animal. The options menu, manual, and other text are available in Japanese, English, French, German, Italian, and Spanish.
Santa's Holiday (Green Sauce Games, 15th Dec, $19.99) – Sleighbells are ringing and Christmas is around the corner, but Santa has gone on vacation! Your assistance is urgently needed to make Christmas still happen. Help Nina and Elfin spread the joy of the holidays to all corners of the world. Prepare to match your way through the magical world of Christmas. Enjoy addictive gameplay as you earn money to decorate Santa's home with festive ornaments. Use handy power-ups to beat the tricky levels. And enjoy the season's spirit in this marvelous match 3 adventure.
The Crackpet Show (Ravenage Games, 15th Dec, $16.99) – Are you ready to get famous? If so, grab your gun and join the most violent TV show in the history of violent TV shows! Participants will have to shoot, smash and rip through hundreds of enemies on their way to victory! Don't be discouraged by THE GIANT BOSSES that are more than capable of turning your innards outwards – just grab the best perks and weapons along the way. Make your gun spew molten lava all over the floor, turn yourself into a berserker, and let your bullets bounce between enemies! All these things stack, so you have every opportunity to turn your furry warrior into a raging death machine.
Tropical Resort Story (Kairosoft, 15th Dec, $14.00) – Develop a lush island full of nature and aim to be the no. 1 resort! Build accommodation for your guests and get those tourists coming! Make the environment even nicer and discover great travel packages to give visitors the best vacation possible. Develop the resort to make your guests' dreams come true! On this ocean island, the sparkling sea is a huge attraction of itself. There's a huge variety of incredible fish waiting to be discovered! Try improving water quality by placing marine plants and rocks in the ocean, and releasing fish you've caught while fishing – you may attract new fishy residents! Once your resort starts drawing in more tourists, business partners will come asking to open stores and restaurants on your island, and you may even help them create new products! Make sure your resort meets their expectations and you'll both benefit! Got a juice stand on your island? Why not place a bench next to it?
Wild Romance (Sticky Rice, 12th Dec, $9.99) – Kazuma leaves Tokyo and returns to his hometown in search of something more fulfilling. Reconnecting with his four childhood friends, he discovers a well-hidden fluffy secret. When the girls accidentally reveal that they are not mere humans but actually magical animal spirits in human form, Kazuma gets embroiled in a summer of fun and adventure he can't resist. Sumire is the fox and leader of the pack. She has a motherly instinct and a deep desire for romance. Tsubaki is the cat and second in command. She knows what she wants and she's determined to get it. Aoi is the dog and full of life. She's full of energy and always up for an adventure. The final girl, Nazuna is the tanuki or Japanese raccoon. She's smart with a creative mind but also a bit of a troublemaker. This authentic Japanese visual novel follows the story of Kazuma as he learns the hidden secrets of his hometown and discovers a supernatural world within it. His adventures include mountain picnics, summer festivals, run-ins with the gods and swimming in a natural hot spring.
So that's your lot for this week's North American Nintendo Download. Go on, be a sport and drop a vote in the poll above, and comment below with your hot picks!