Following its massive success on PC, Nintendo Switch™, PlayStation 4, and Xbox One, Pixmain's My Time at Portia is now open for pre-registration on iOS and Android with a 30% discount off its price tag and a bunch of mobile-only Milestone Campaign rewards available each time it hits pre-order milestone. With over two million copies sold all over the world, the insanely popular RPG sim set on an idyllic farm is bringing its crafting charm onto mobile devices where the game's developer, having listened to the feedback of its legions of fans, has implemented a host of significant upgrades to make the mobile version even more fun and easy to play, including: autosave functions, menu shortcuts, and so much more.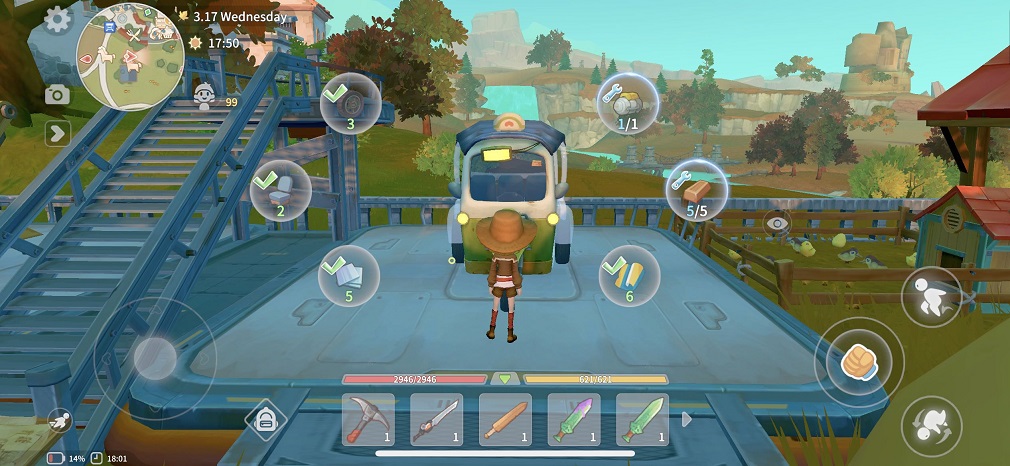 In My Time at Portia, players will not only be able to fish, farm, and craft to their heart's content, but they can also explore the vast post-apocalyptic world as well as battle monsters in heart-stopping combat. All this is to help restore your Pa's old workshop, but who's to say what else you'll discover in the process?
With a redesigned user interface that's more mobile-friendly, the game boasts of optimized controls that will make playing on a touchscreen more convenient. The mobile port also supports multiple languages, as well as shortcut functions to enhance the experience on smaller screens.
On top of resource pinning and task pinning, perhaps the most convenient mobile update is the introduction of the manual save and the autosave function, which lets players pick up the game whenever and wherever they feel like it without losing any of their hard-earned progress.
You can now pre-register for My Time at Portia on the App Store and on Google Play (Japan Android pre-order link) to score a $5.99 introductory price from the full price of $7.99, or follow the latest updates on the official Facebook page to learn about the latest updates ahead of its full launch on August 4th.
Sponsored Content
This article is sponsored content written by TouchArcade and published on behalf of Pixmain to promote the pre-registration campaign for My Time at Portia. For questions or comments, please email [email protected]