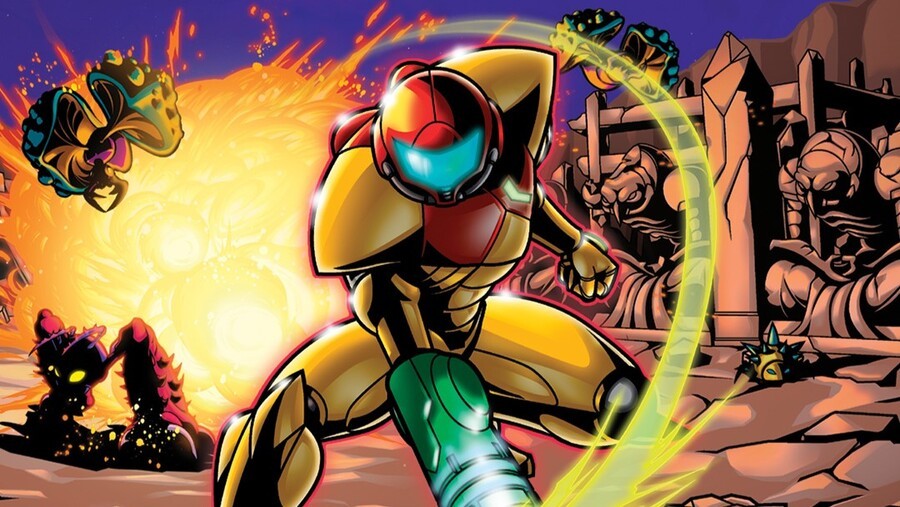 Screenshots from Metroid: Zero Mission have been spotted on the Japanese version of the Nintendo Switch Online app. Yakumono, or LuigiBlood, found the images tucked away in the Metroid Fusion folder of the app (via My Nintendo News).
Version 1.1.0, which brought with it the highly-acclaimed Metroid Fusion as the first new addition to the GBA NSO app, has some accidental screenshots left in it which suggest that Zero Mission — the GBA remake of the first Metroid — will also be coming to the service.
In the below tweet, the screenshots show the 'link' screen from Zero Mission, which tells you how to link the game up with Fusion. There's no text, and the screenshots are unused, but it might imply more than just another new Metroid game on the service.
Many other dataminers have tested out the link cable service on GBA NSO and proved it works — previously with Pokémon FireRed & LeafGreen, which isn't even on the service at the moment. So if Metroid: Zero Mission does make its way over, then will link functionality also make an appearance officially? Linking up Fusion with Zero Mission allows you to look at the Metroid Fusion gallery in Zero Mission, which is a nice little bonus.
Every mainline Metroid game is currently playable on NSO — with Metroid (NES NSO), Metroid II: Return of Samus (GB NSO), Super Metroid (SNES NSO), Metroid Fusion (GBA NSO) and Metroid Dread (Switch) — but Zero Mission is arguably the complete version of the original game, and one of the best in the series. Fusion is also nothing to sneeze at, either: