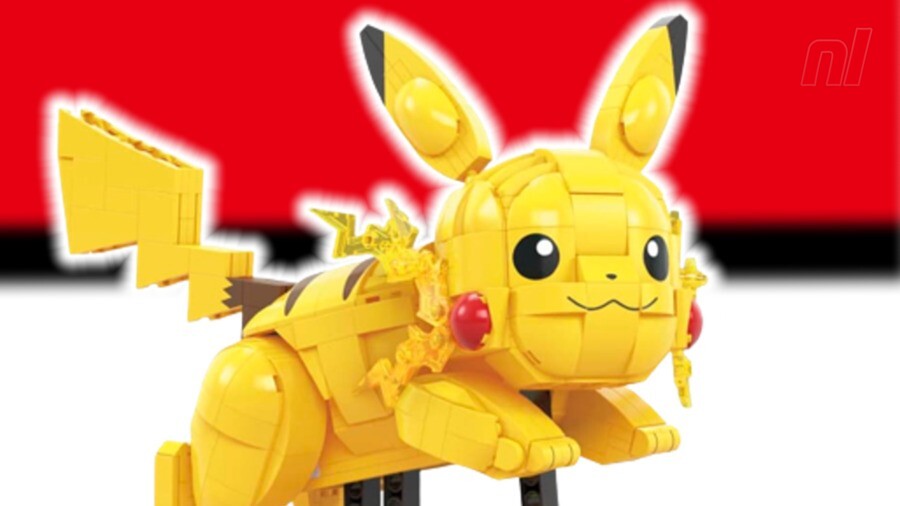 We can never have enough Pokémon toys, especially buildable ones! And today, The Pokémon Company and Mattel have announced a brand new Pikachu that's bound to set off sparks in your heart.
This MEGA Pokémon Motion Pikachu Building Set lets you build an adorable, elaborate electric mouse to display or play with. Coming with 1095 bricks, once fully constructed, you'll be able to move Pikachu's legs using the mechanised, hand-activated crank!
The attention to detail here is stellar. We love the little round red cheeks that just make us was to rub them, and the added electricity coming from them really just adds to the cuteness factor. This 'mon comes in at just over 22.5cm long (under 9 inches) when all put together, so it'll make a nice shelf item for sure!
Here's a peek at what this little yellow mouse will look like when he's all built:
Look, we love him, okay? It's the little paws. Mattel's demo video on its website will convince you — the grass even moves to make this Pikachu look like the one in the anime intro!
There are even interchangeable nameplates which let you pick between Pikachu's English or Japanese names, a lovely little touch!
Of course, given the size and the brand, Pikachu doesn't come too cheap. Mattel lists the electric mouse at $96.99, though (at the time of writing this) Amazon has it for just over $75. In the UK, you can grab it for £74.99 at Very or £72 on Amazon.
Do you think this Mattel buildable Pikachu is adorable? Do you want to add it to your collection? Let us know!