Honor X40 GT is arriving on Thursday with a Snapdragon 888 chipset. The company revealed on Weibo today that the smartphone will come with an advanced cooling solution with 13 different layers to guarantee optimal sustained performance. Its vapor chamber will have a total area of over 4,000 sq. mm, the company also revealed.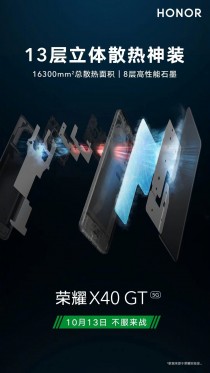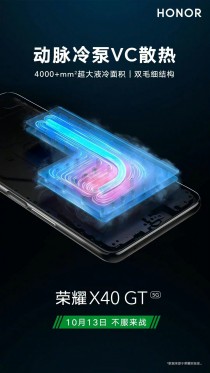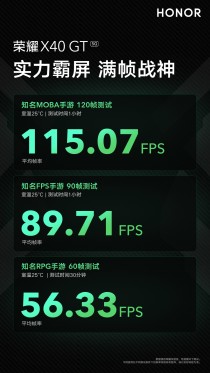 Honor X40 GT performance and cooling details
The Honor X40 GT will be the third phone of the midrange X40 lineup and is clearly targeted at power users. It will have a 120Hz refresh rate screen, and will sustain 115.07 fps for 60 minutes playing a multiplayer online battle arena game, such as Arena of Valor, without major changes in the temperature of the device.
The framerate remained practically unchanged in two other scenarios – one hour of FPS gaming at 90Hz and one hour of RPG playing at 60Hz. To promote the phone, Honor is partnering with a local MMA fighter Magnum Zhang, who was the first-ever Chinese champion in UFC history.
Source (in Chinese)