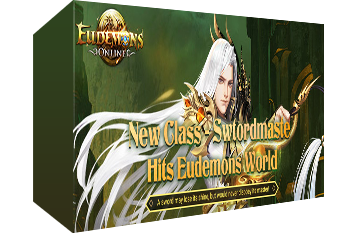 To unlock your key instantly you just need to complete all the steps on the top. Get your key now while supplies last!
How to use your Key:
1. Sign up for free on their game page.
2. Download the game and login to create a new character.
3. Open "Hot Event" on the top right of the game and claim your code on Gift Pack Code page.
4. Then you can get gifts through mail.
This key contains the following:
⦁ 15-day Wild Whale(B)
⦁ 10-day David Pet(B)
⦁ 10-day Gallant Shadow Pack(B)
⦁ 6 Red Stones
⦁ Lucky Potion +1 (B)
⦁ ATK+10% Gem(B)
Note:
1. Each key can be redeemed just once and each person cannot redeem more than one of these codes.
2. This giveaway ends on 4/16/2023.
3. Only for the new players who have successfully registered during the event.
4. One gift per new created character.
About:
Eudemons Online is a Free-To-Play fantasy MMORPG. In this mythic world, you can choose to be a Warrior, a Mage, a Paladin, a Vampire, a Necromancer, a Shadow Knight and a Ranger. Now the newest class SwordMaster has arrived the Yartland. Swordmaster, as the name suggests, is a master versed in the art of fighting with swords. The skill, Vortex of Sword, allows the Swordmaster to control thousands of flying swords and form a vortex over the target area, dealing massive physical damage. Would you like to be a real Swordmaster? It's time to ride your sword and embark on a new sword journey in Eudemons Online!