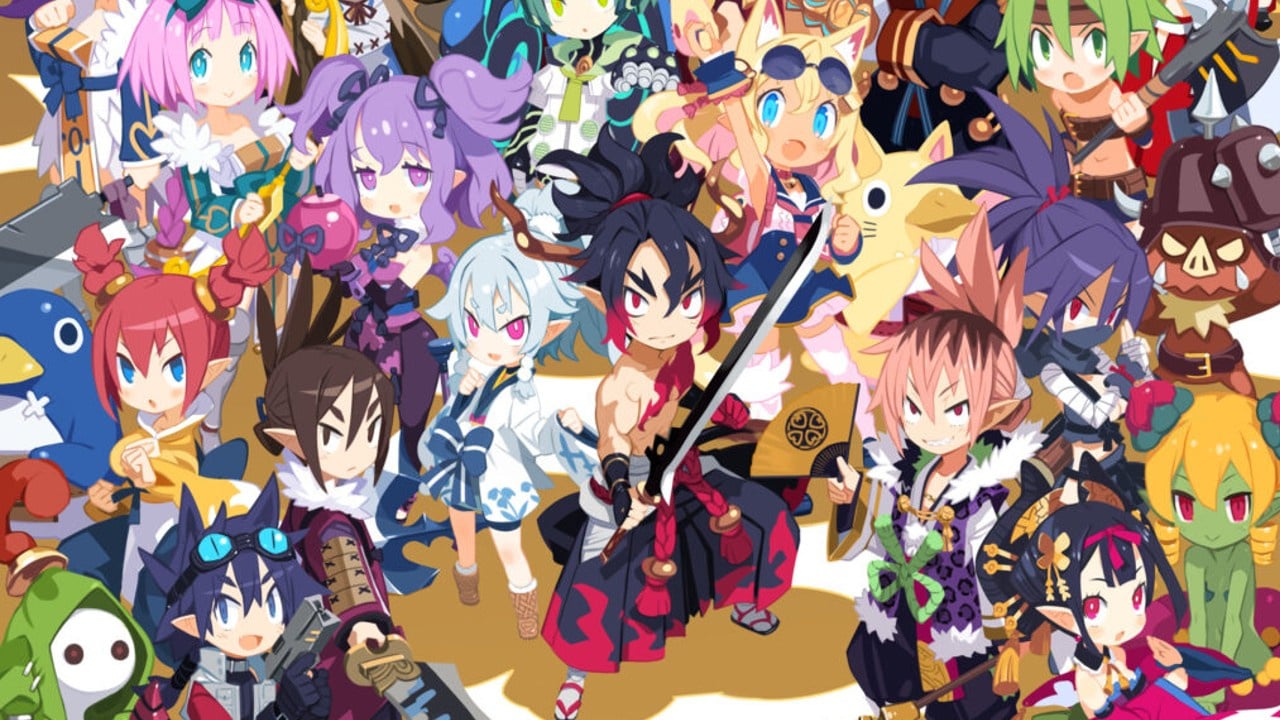 Nippon Ichi Software has revealed the next entry in the popular Disgaea franchise. This over-the-top strategy RPG series' new entry — Disgaea 7 — launches in Japan on 26th January next year, and the developer also shared a ton of details about the game. An English localisation hasn't been announced yet, but we usually get these games within six months of their Japanese releases, so hopefully we'll hear something soon!
Still, it seems like there are some big things for us to get excited about with this seventh entry. Translated by Gematsu (thanks, Go Nintendo!), Nippon Ichi revealed that the new game will be set in the Hinomoto Netherworld Cluster, which is heavily inspired by Japanese culture, where the heroes are fighting to regain their lost Bushido.
Oh, and just like in ancient Japan, people — and Prinnies — can turn into giants. Right. Well, this is Disgaea, and over-the-top is its thing. But this isn't the only new feature coming to the game — check out what Nippon Ichi has shared so far:
New Feature #1: The Rule-Breaking Simulation RPG Scales up with "Dodeka MAX"!
The Disgaea series is known for its "combat system where all things go" and "infinite character development system." In Disgaea 7, this is further enhanced with a new rule-breaking system.

The new system "Dodeka MAX" will enlarge the characters so big that they leap out of the map! Defeat multiple enemies with a giant powerful blow, open giant treasure boxes—the "Dodeka MAXed" characters wreak havoc all around the map!

Don't miss out on the biggest dynamic battles of the series!
– Dodeka MAX and unleash outrageous power!
– Both enemies and allies can Dodeka MAX. Experience thrilling, over-the-top battles.
– Use your mighty power to devilishly trample small enemies.
– What kind of items await inside the giant treasure chests…?
– New Feature #2: Create Edible… Swords? Item Reincarnation
In Disgaea 7, not only characters, but items can be reincarnated to make them stronger. Make swords into gum, slipper into staffs, and so on by reincarnating them again and again. You can create swords that heal you when eaten, or staffs that boost your mobility! What kind of items will you create and who will equip them? Make the ultimate badass items from countless possibilities!
– Reincarnate items to create Beast Trance!
– The reincarnated Beast Trance has various skills not found in the standard Beast Trance!
– Reincarnate items over and over to boost damage!
– Train Your Characters as You Wish! Enjoy the Flexibility of Character Development with "Reincarnation" and "Weapons Skills"

Reincarnation
Reincarnate your characters to create your most badass character! "Reincarnations" will set your characters' levels back to 1, but some statuses and skills you have acquired before the reincarnation will transfer, making them stronger. Use reincarnation again and again to create your most badass character, like a character who excels in both physical and magic attacks, or characters who knows every skill!
—By "reincarnating" a warrior into a mage, you can create a mage that can also fight in close combat.
Weapon Skills
Unlock special skills by mastering weapons! All seven weapon types can unlock a powerful special weapon skill as you continue to use that weapon. A magical knight that uses fist to fight, a fighter that can snipe from afar, a truly flexible character development system awaits you!
– Cool Fighters and Cute Mages, Even Rotten Zombies! The Most Amount of Generic Characters in the Series to Enable Your Ideal Party!
There will be 45 generic characters appearing in Disgaea 7, making it the most in series history. Create your own badass army amongst characters that has different appearances and abilities.
– New Feature #3: First Time in the Series, Ranked Battles are In! Use Artificial Intelligence to Enjoy More Disgaea!
Set character moves with the artificial intelligence "Machine Edit" feature; "Auto Battles" for those who don't have much time to train your characters; and "Ranked Battles" to compete against other players!
"Ranked Battles" become number one in the Japanese netherworld. An all new artificial intelligence player-versus-player mode in which you can battle against users around the country online! Shape your strategy by assessing the terrain and reading the movement patterns of your opponents. The strategies you have gathered through trial and error will lead your team to victory!
"Auto Battles" level up your characters only little work. Using an item called "Masoline," you can command your party to fight through stages you have already cleared. Setting AIs according to the stage can let you efficiently level up your characters with less "Masoline" usage!
– Register your team and fight against players across the country. Set the best artificial intelligence according to the weekly stages.
– Highly configurable, from special moves to the order of enemy attack!
– There is also an initial artificial intelligence that is already set, so you can enjoy the feature even if you are not used to it.
–"Masoline" can be obtained by meeting certain conditions , clearing a stage, or completing a quest.
– The Most Content in the Series Yet and New Gameplay Elements: Please Look Forward to the Powered-Up New Disgaea!
Retaining the Disgaea flavor, Disgaea 7 has evolved with new game-deepening elements. The tale of regaining Hinomoto, the hidden effects of Dodeka MAX, and unique characters that add flare to the Japan-esque world. Please stay tuned for more news to come on Disgaea 7!
So, eating weapons, reincarnation to make new hybrid classes, giant Prinnies… sounds like Disgaea, alright!
Japan will be getting a 3,300 yen Collector's Box for the game at launch, which contains a Soundtrack CD, and an art book, and it comes in a nice little box, too! Given the developer's western subsidiary, NIS America, we'll likely get something similar here too.
We've grabbed a few screenshots from the upcoming game that show off a few of the different mechanics.
We'll let you know as soon as Disgaea 7 gets a western release date. In the meantime, are you happy with what you've seen from the next entry in the series so far? Share your thoughts in the comments, doods!