Following the recent discounts and free DLC giveaway in-game, Aspyr Media has released the Civilization VI (Free) Leader Pass for the iOS version of the game alongside an update adding support for the first pack. If you've not kept up with Civilization VI on mobile, it debuted on iPad for free a while ago. Since then, it has gotten updated with new DLC and expansions including the universal update and a lot more. The iOS version has always been behind consoles, but with today's update, it is now comparable to PC with DLC. It sadly still hasn't seen any visual or performance updates. When this pack was announced, I was hoping we'd see some long overdue visual improvements and frame rate boosts for newer devices, but things are the same. The first pack included in the pass is out now. On PC, owners of all prior DLC get the pass for free, but iOS players need to pay for it.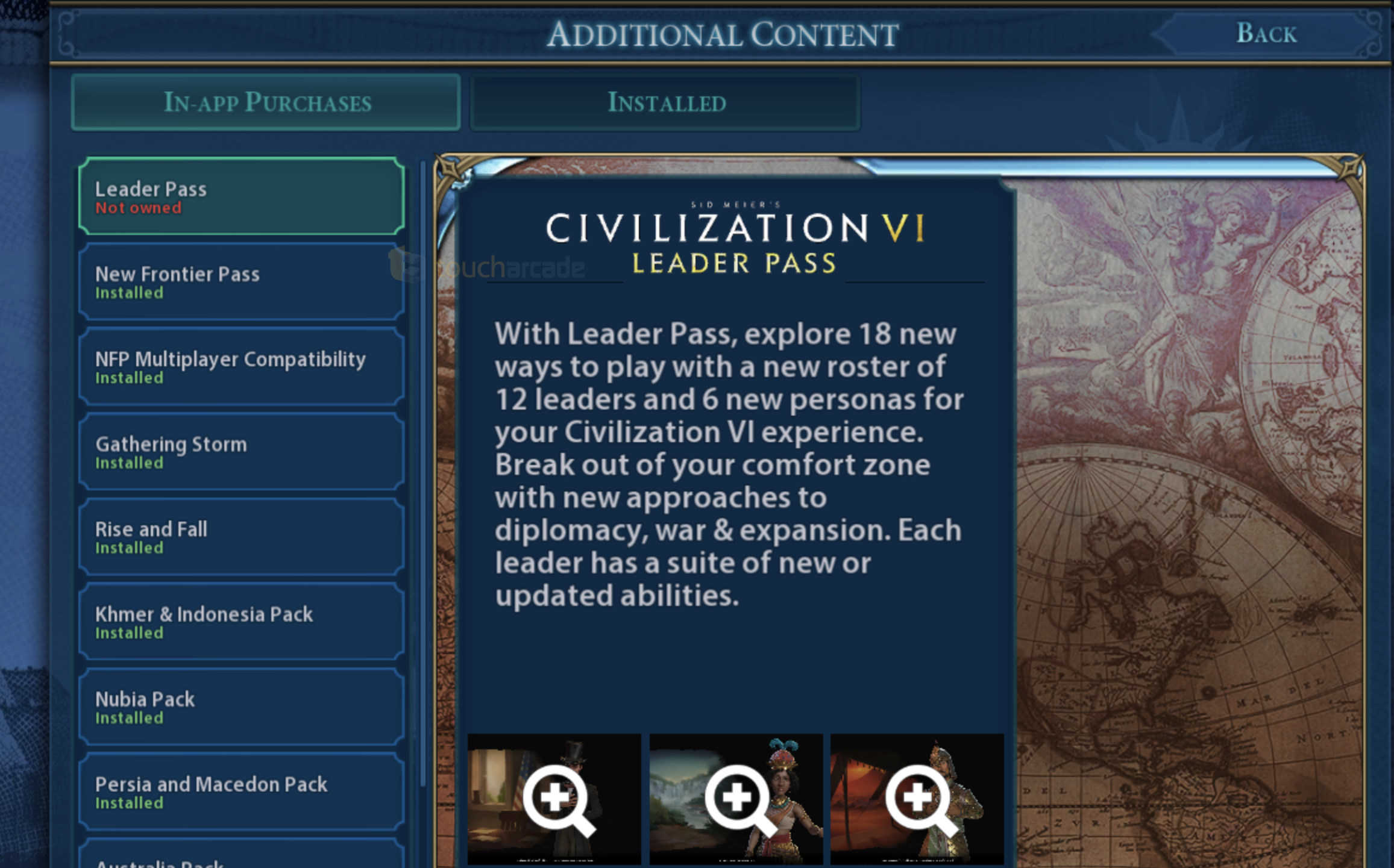 The Civilization VI Leader Pass includes the following packs via 2K:
Great Negotiators Pack (Pack 1): Available now – Test your diplomacy skills with the Great Negotiators Pack, including Abraham Lincoln (United States), Queen Nzinga Mbande (Kongo), and Sultan Saladin (Arabia)
Great Commanders Pack (Pack 2): Lead your troops to victory with the Great Commanders Pack, including Tokugawa (Japan), Nader Shah (Persia)3, and Suleiman the Magnificent (Ottoman Empire)4
Rulers of China Pack (Pack 3): Establish some new dynasties with the Rulers of China Pack, including Yongle, Qin Shi Huang the Unifier, and Wu Zetian
Rulers of the Sahara Pack (Pack 4): Revisit the cradle of humanity with the Rulers of the Sahara Pack, including Ramses (Egypt), Ptolemaic Cleopatra (Egypt), King Sundiata Keita (Mali)
Great Builders Pack (Pack 5): Rebuild the world better than ever with the Great Builders Pack, including Theodora (Byzantines)5, Sejong (Korea)6, and Ludwig II (Germany)
Ruler of England Pack (Pack 6): Fill out your growing collection of monarchs with the Rulers of England Pack, including Elizabeth I (England), Varangian Harald Hardrada (Norway), and Victoria – Age of Steam (England).
Some of these packs need access to prior DLC or expansions. The Leader Pass is available as an in app purchase now. Check out the official website for the Leader Pass here. If you've not played the base game or any prior expansions, read our initial iPad review here and my updated review with expansions and more here. I also reviewed the New Frontier Pass content and the state of the game in 2021 on iOS here. You can try out Civilization VI for free on the App Store for iOS here. We featured it as our Game of the Week when it released. Have you tried the game on iOS or any other platform yet and are you planning on buying the Leader Pass today?