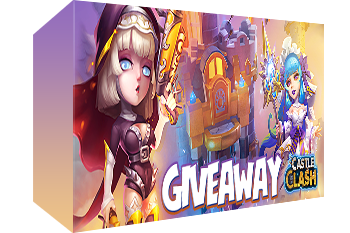 To unlock your key instantly you just need to log in and click the button on the top. Grab your key NOW while supplies last!
How to use your Key:
1. Log in and click the button to unlock your key.
2. Create your account here if you don't have a Castle Clash account already.
3. Click the Gear icon at the bottom-right corner of the screen in-game, then click the Accounts button to check your IGG ID.
4. Enter your IGG ID and key in the Redemption page here.
You can also log in to Castle Clash to redeem your gift:
1. Expand the menu options and click on the gear icon to open Settings.
2. Once open, click on the rightmost gift box icon and enter your code to receive your gift.
This key contains the following:
Items valued at $200 in total:
⦁ Resource Select Box I *20
⦁ Breakthrough Select Box I *10
⦁ Castle Chest V *50
⦁ Event Coin *5
⦁ Jar of Gems *50
⦁ Magic Powder *50
⦁ Prime Hero Card V *2
⦁ Hero Card (Official Events) *2
⦁ Hero Skin Scraps Box V *100
⦁ Honor Badge Pack III *1000
⦁ EXP Pack III *2000
⦁ Mastery Essence I *1000
⦁ Title Talent Badge *200
⦁ Legendary Hero Vestige *300
⦁ Work Hammer V *200
⦁ Prime Insignia Chest III *2
⦁ Insignia Enhance Rock III *5
⦁ Spawning Agent *500
⦁ Pet Essence *500
⦁ Gear Scroll (Gold) *10
Note:
1. This giveaway code is only available to the players of Castle Clash who registered from Dec 15, 2022 – Dec 30, 2022. Players must redeem their gift within 24 hours after registration. Each account may only redeem the gift once.
2. Each account may only redeem the gift once.
3. This giveaway is valid until Dec 30, 2022.
About:
A new era has come to Castle Clash! Lords from regions far and wide are gathering in Narcia to compete for ultimate glory! The war drums have sounded. Only the strong will survive…