Introduction
While not directly related to what I do here at GSMArena, 3D printing is a huge passion of mine. Having recently done an in-depth review on the CREALITY HALOT-ONE resin 3D printer, I recently got a chance to play with the ANYCUBIC Vyper and can now share what its real life performance is like.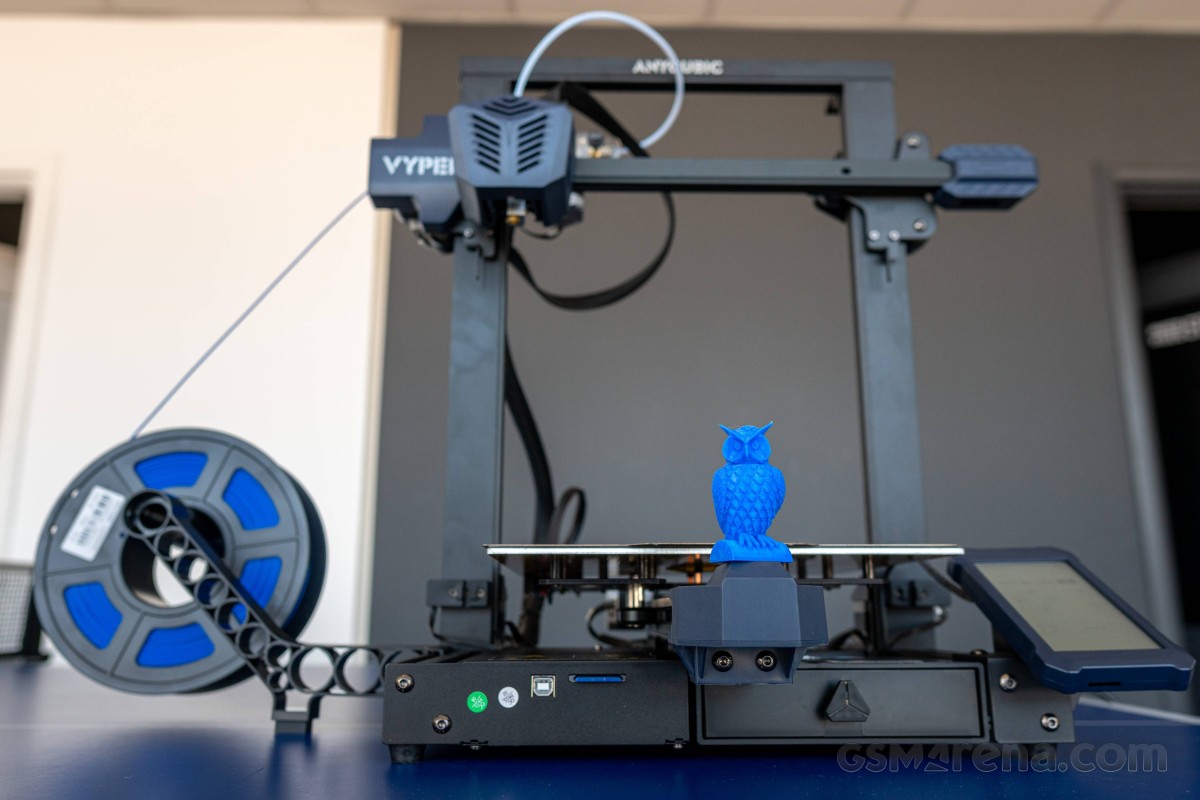 I have been doing Fused deposition modeling (FDM) 3D printing for over a year and have owned a total of three 3D printers – my current Monoprice Select Mini V2, which is the only one I could reasonably keep with the limited home space I have and before that Prusa i3, which replaced my original Ender 3. The CREALITY HALOT-ONE gave me some experience working with resin as well.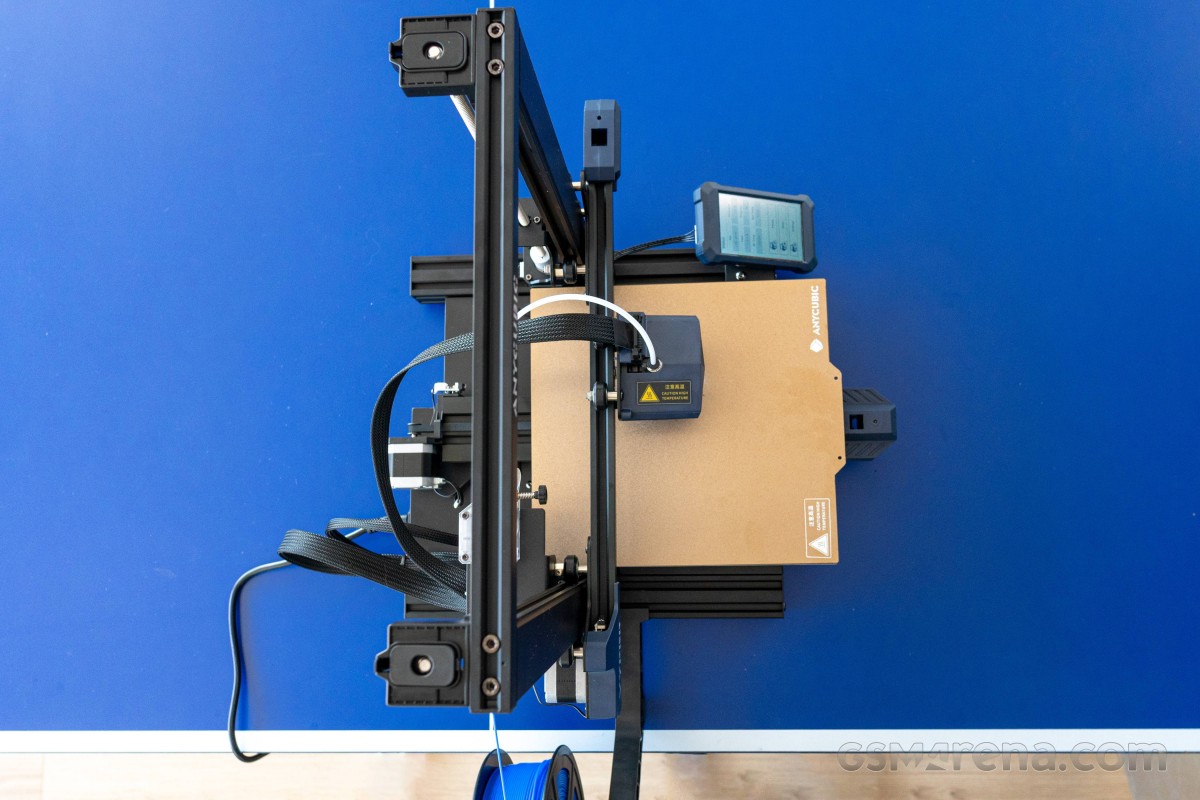 ANYCUBIC is a brand I have encountered before but don't really have any personal experience with. In any case, their reputation in the space is rather good. This places pretty high expectations on the product to perform. But before we get to that here are the ANYCUBIC Vyper specs.
ANYCUBIC Vyper specs at a glance:
Dimensions: 508x457x516mm, ~10kg; assembly required.

Technology: FDM (Fused Deposition Modeling).

Extruder: Single; dual-gear system.

Nozzle: Diameter: 0.4 mm; Max nozzle temperature: 260 degrees Celsius

Print bed: Removable magnetic flexible string steel top surface; Max hot bed temperature: 110 degrees Celsius.

Bed leveling: automatic (16 points).

Print volume: 245x245x260mm.

Performance: 0.0125mm X/Y axis precision; 0.002mm Z axis precision; 0.1mm print resolution; 180mm/s max print speed (80-100mm/s recommended).

I/O:4.3-inch touch screen; 1x USB Type-B port; 1x full size SD card slot.

Printing filament: PLA, TPU, ABS, PETG, Wood.

CPU: ARM Cortex-M3 chip; High-speed computing; Silent printing; 32-bit main frequency: 72M; 8-bit main frequency: 16M.

Software: Cura slicer (custom config profiles provided by manufacturer); Windows and Mac OS driver provided for "online" operation via Cura; Input Formats: .STL, .OBJ, .AMF; Output formats: GCode.

Other features: Double screw vertical rail system; double photoelectric limiter for precise Z-axis zeroing; dual cooling fan for print head; double-gear extrusion system; 100-240v AC 60/50 Hz power support.
The Vyper currently retails for $359 or $419 for EU countries. That actually makes the Vyper one of the most expensive FDM 3D printers ANYCUBIC is currently offering. That being said, it is also supposed to be one of the most advanced units the company has, since it has auto leveling for the print bed. Some of its other highlight features include a pretty generous 245mm(L) x 245(W) x 260mm(H) print volume, a new Cortex-M3 chipset, TMC2209 silent motor drivers and pretty low-noise motors.
Unboxing and accessory package
The ANYCUBIC Vyper ships in a thick and highly-protective dense foam package. It is a fairly-massive crate and a heavy one too, since just the printer itself weighs around 10kg. So, be prepared for that.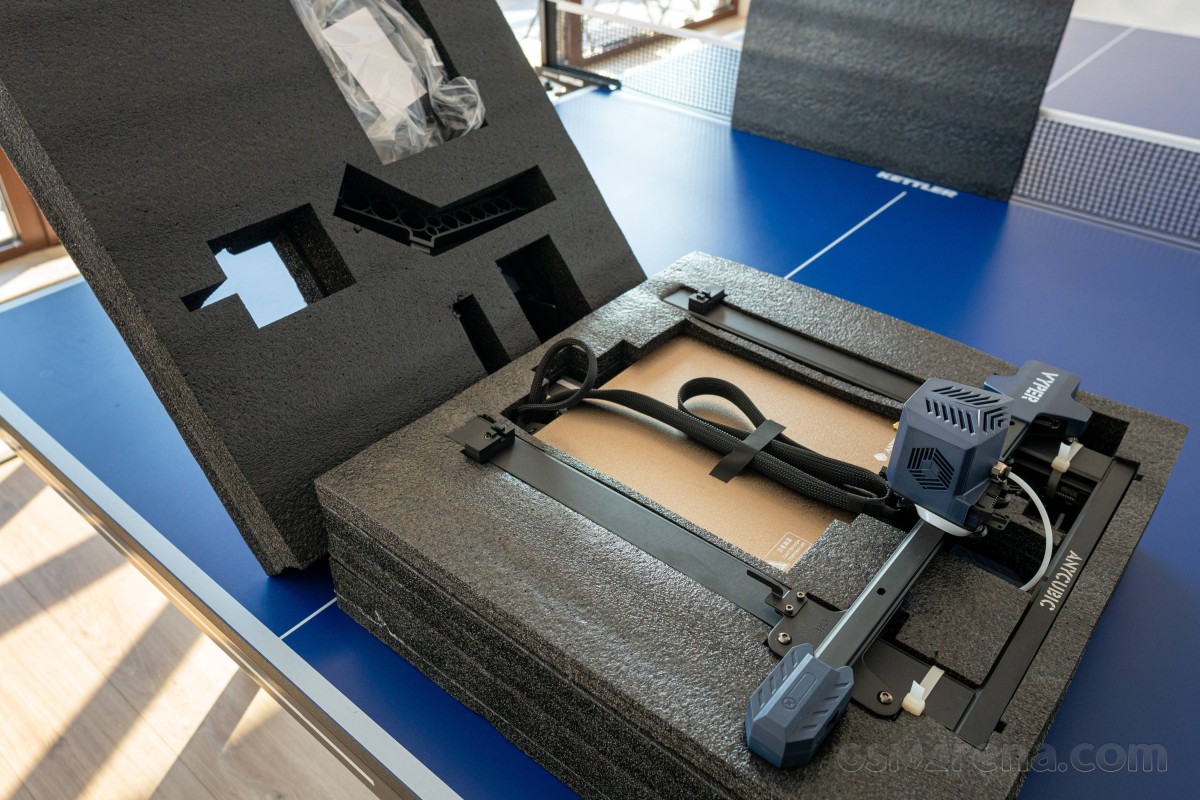 The crate itself is split vertically into a few sections that allow for very easy unboxing of all of the bits layer by layer. We have absolutely no issues with that packaging. Everything arrived safe and sound with zero damage. Browsing through some reviews of the Vyper on the ANYCUBIC website reveals a couple of damage complaints, but they both seem to be factory issues rather than shipping woes.
The included accessory package is surprisingly rich too. You basically get every tool you need to assemble the Vyper and get things going. This includes a set of Allen wrenches, a couple of thin spanners and small cable cutters. Also, a small metal rod with a needle on one end and spring on the other meant to facilitate cleaning to extruder nozzle. You also get a spare nozzle, which further sweetens the deal.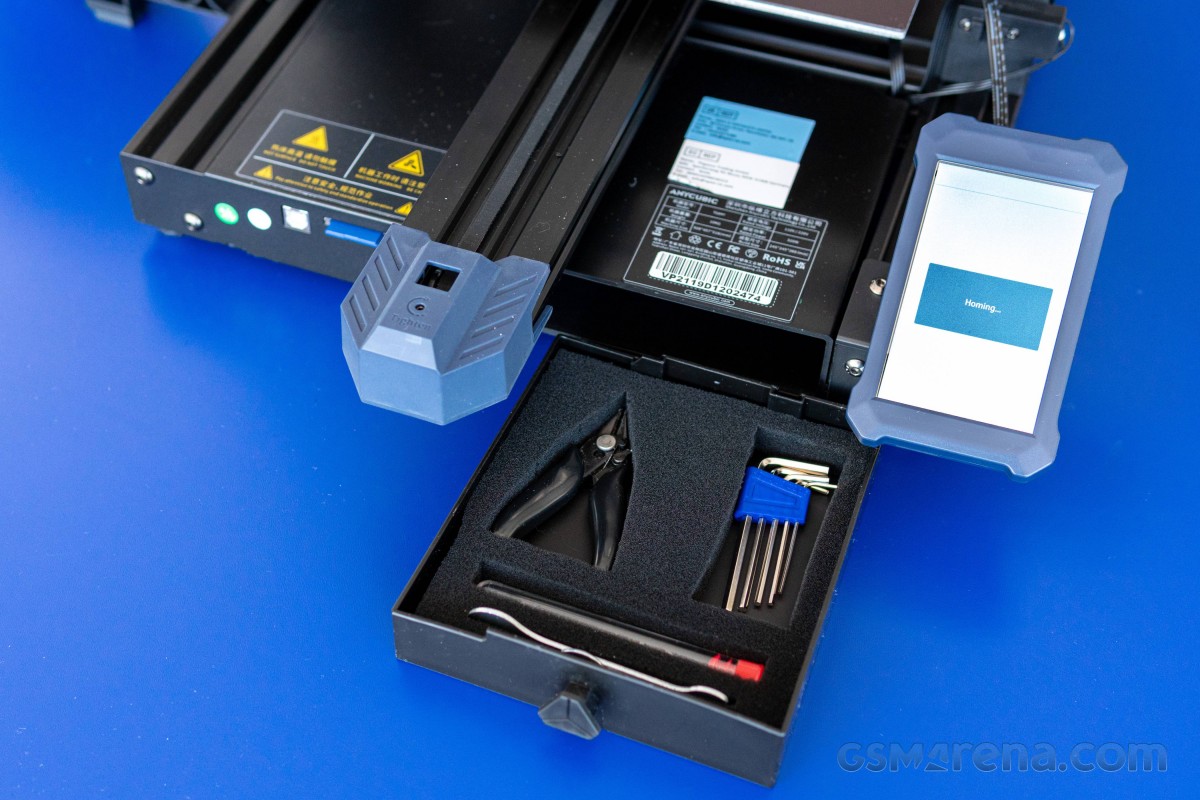 Most of these things are neatly tucked in a special drawer inside the base of the printer.
Some other things included in the package are a full-size SD card and a USB card reader. These are meant to facilitate getting project files from your PC to the printer. If you would rather operate the Vyper by connecting it dircetly to a PC in the so-called "online" mode, you can do that as well with the included USB Type-A to Type-B cable. Also, in the box – a user and assembly quick manual and 10 meters of test PLA filament for your first creations. Likely the included owl test file.
Assembly and initial setup
The Vyper falls into hobbyist territory, but it still requires at least some assembly and initial setup. There are some exceptions here and there, but typically a 3D printer will ship in at least a few pieces. I am happy to say that the ANYCUBIC Vyper is quite straightforward to assemble.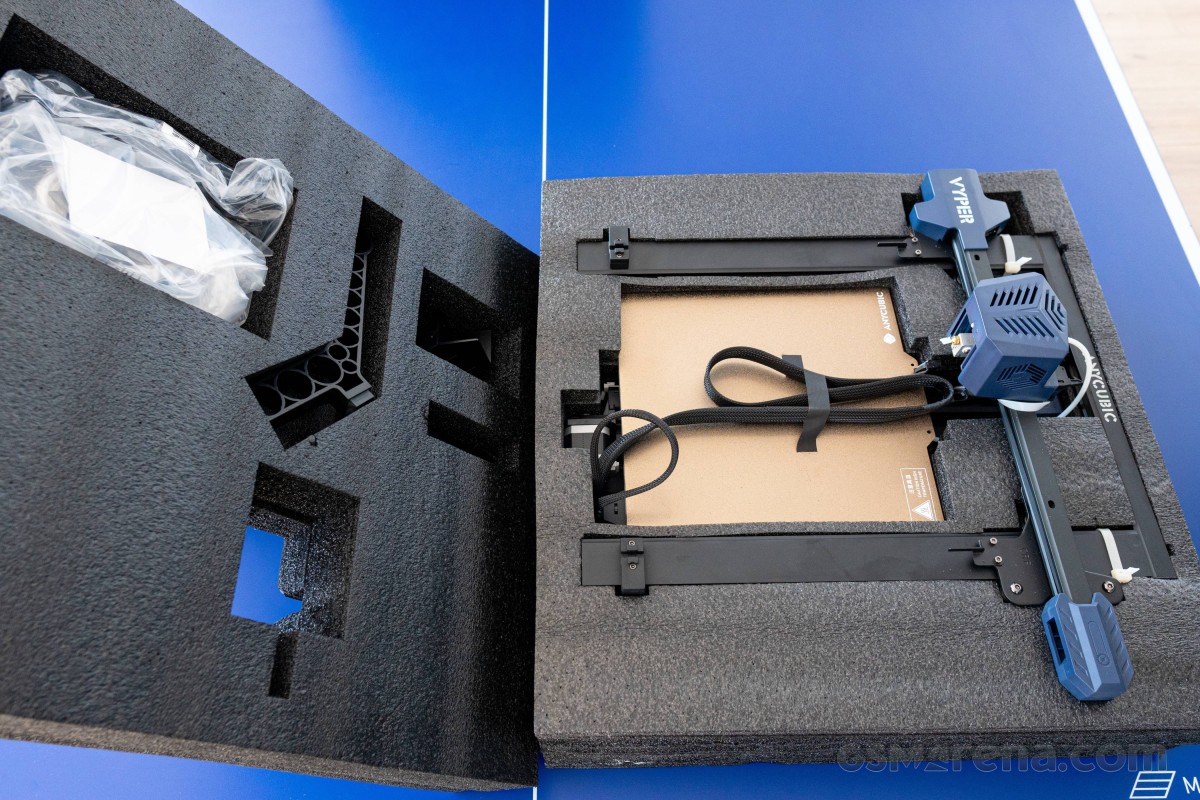 Your main task is basically to get the two big aluminum pieces connected together and then plug a few connectors in. The frame attaches to the base with a total of four screws, which you do get the Allen wrench for and nifty guide grooves. It is ideally a two-man job, but you can pull it off by yourself if there's nobody available to help. After that, the display needs to be screwed in, a filament holder gets be snapped on, and a few cables have to be plugged in. All of the latter have solid plastic connectors and different numbers of pins, making it really hard to mess things up.
Honestly, the hardest part of the entire assembly process was probably to cut off and remove a few zip ties meant to stop bigger pieces from sliding around during shipping. One of the guiding rollers for the base plate required some tightening as well, which was at an awkward angle and most of these parts were nicely lubricated, which is great for operation but not perfect for assembly.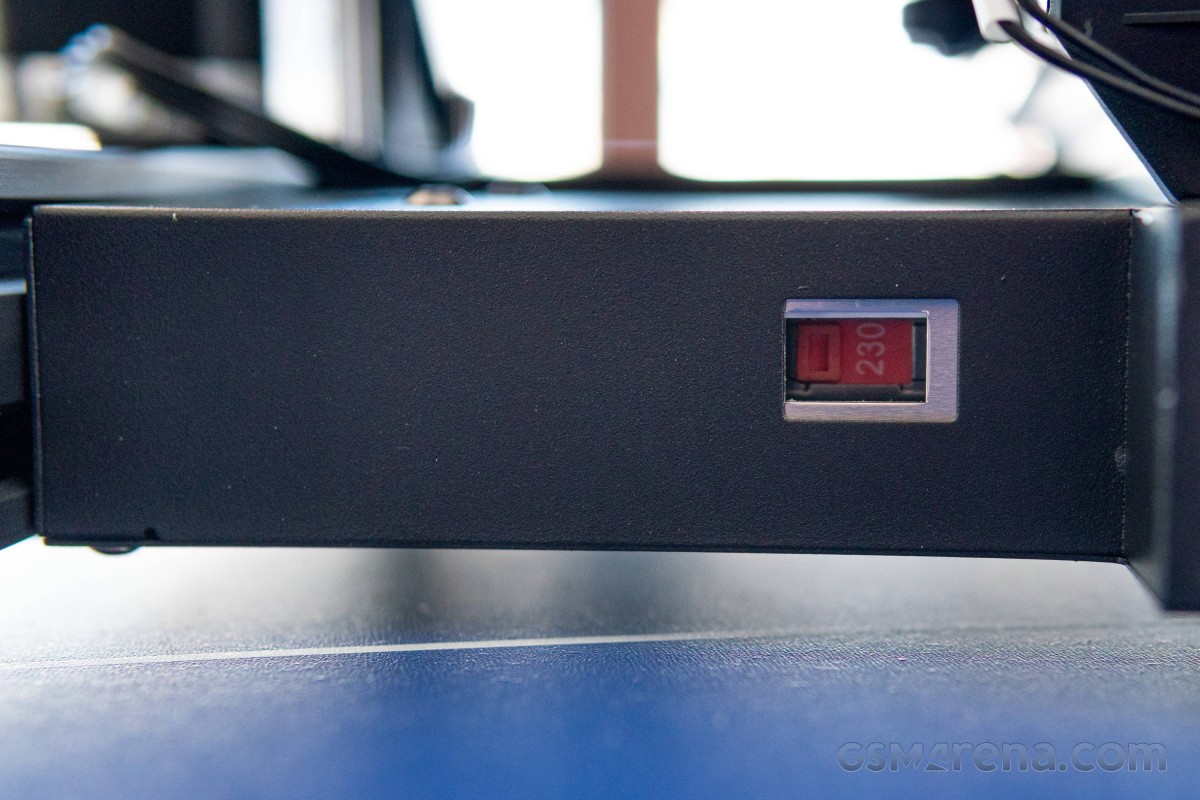 Overall, we have no complaints about the process. It took about 40 minutes in total, all of the tools needed were provided, the manual was easy to follow and included helpful pictures. And everything worked on the first try. Just take your time and read every step carefully – there are some potential pitfalls that the manual goes out of its way to explain in bold red letters. For instance, the pretty important voltage selector that switches the power supply between 110V and 220V.
Once everything is mounted, tightened and connected on the Vyper, you just need to install a few things on a PC. All of the files you need are conveniently included on the provided SD card. The ANYCUBIC Vyper uses Cura as its slicer/control software of choice – pretty much an industry standard at this point, which is much better than obscure and dodgy third-party apps here.
ANYCUBIC even includes a nifty guide to set up a printer profile for the Vyper, as well as a trio of pre-made profiles for printing with PLA, ABS and TPU. We found the settings in these to be excellent. A few easy menu entries later, and you are off to the races, completely ready to operate in the easier and preferred "offline" mode. If you want to hook up the Vyper to the PC directly in "online" mode, ANYCUBIC provides USB drivers for Windows and Mac and a guide for that process.
You can get Cura and the profiles installed on Linux, but online mode might be a bit harder to pull off. Speaking of OS support, Cura currently says that Windows 11 is not fully supported, and neither are Apple's M1 devices. You need a 64-bit version of Windows 10, Mac OSX 10.14 or newer or Linux.
Hardware overview, controls and special features
The ANYCUBIC Vyper is a solid and sturdy device, no doubt about that. Its base is made of aluminum, and so is the frame. That is kind of the standard for 3D printers, though, since there is a lot of weight and plenty of movement to handle and do so without any significant vibrations.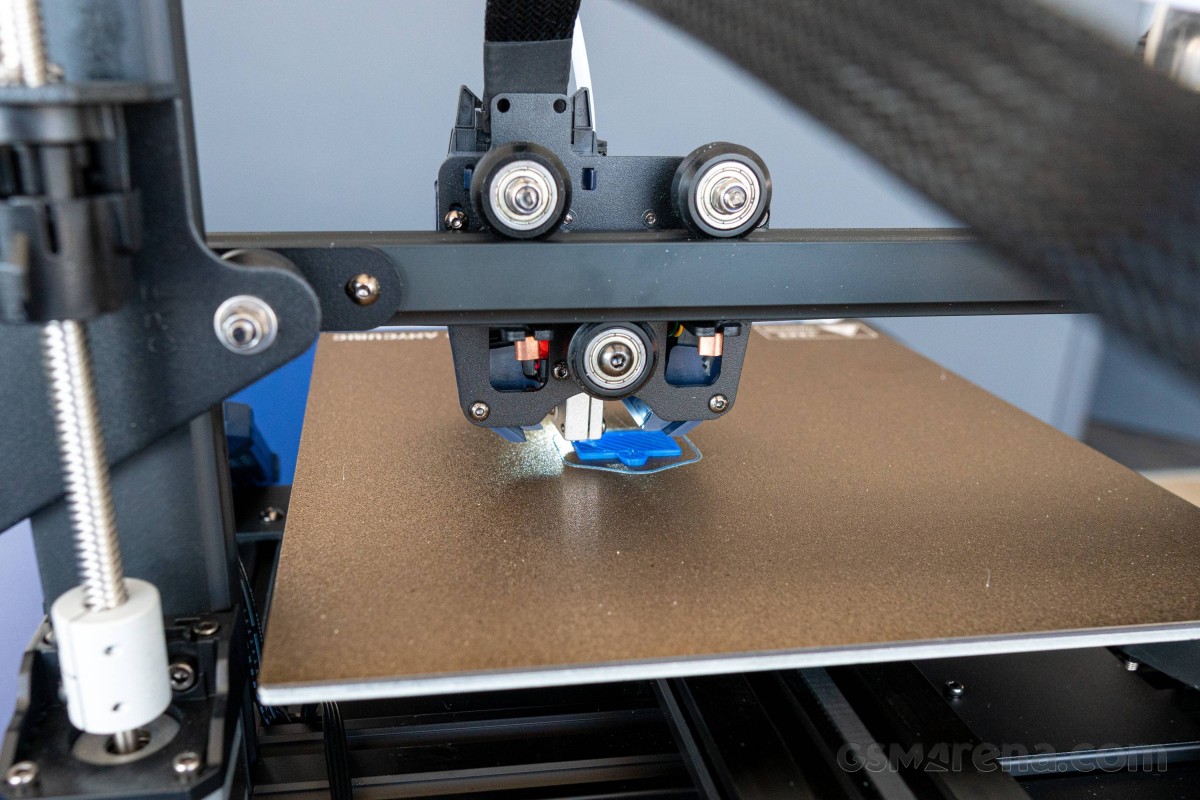 Since we are on the topic of materials, we should mention the printing bed. It is actually quite sophisticated, even before we mention the auto-leveling functionality. It has a nifty magnetic sticker on top and then a top surface, made from a flexible sheet of spring steel and a special rough coating on top for better adhesion of the actual prints.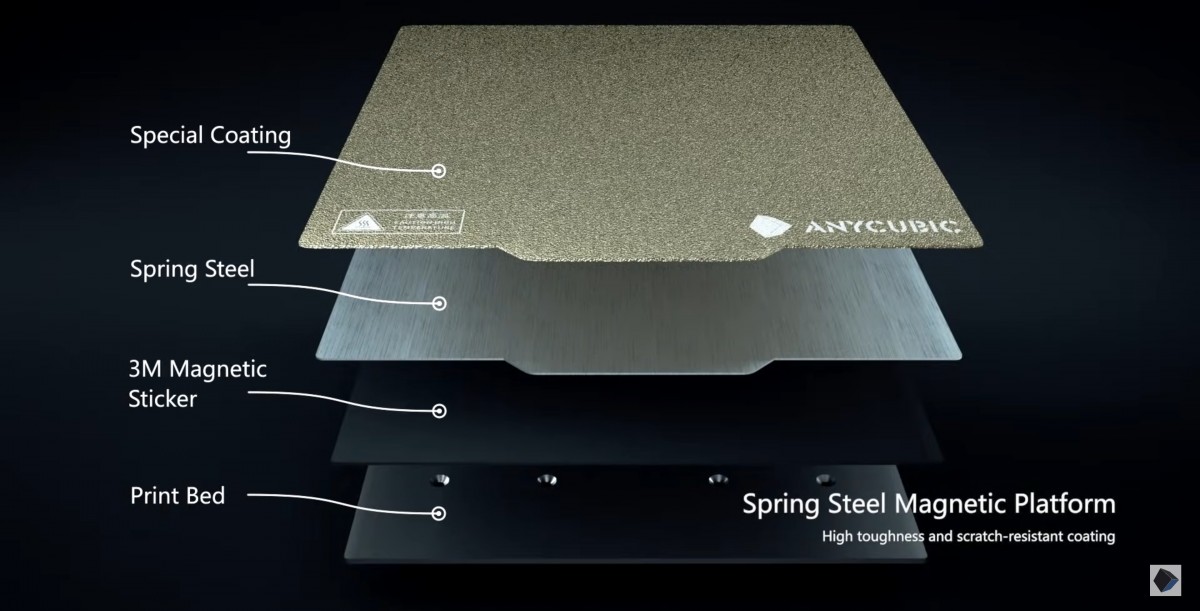 This is nothing revolutionary, and magnet-mounted add-on surfaces have been a thing on FDM printers for a while now. Still, it is great to see one here, and we have to say that it is of very high quality. The steel is bendable enough to enable easy part removal while also quite durable. It does not seem to warp easily. The top surface coating works great in terms of actual adhesion and transfers heat very well to its surface from the heated print bed. It is a bit hard to clean, though.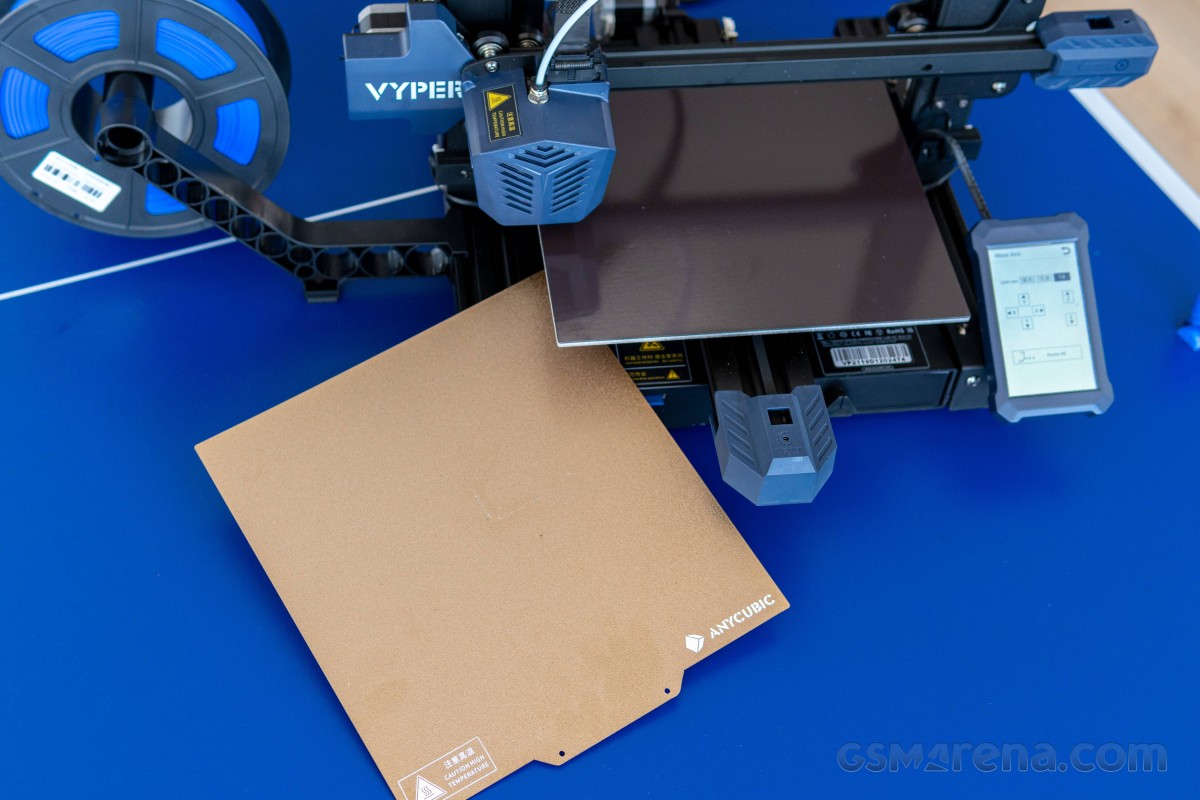 Most bits on the ANYCUBIC Vyper are exposed and easy to reach, which is the norm for most FDM printers of this class. That facilitates easier maintenance, though if you intend to use it in a dusty or otherwise dirty environment, you might want to look into a more closed-off model instead or figure out some cover for the Vyper to ensure its smooth operation. And if that's not the case you will appreciate that you can access all of the functional bits, like the guide casters, the driving belt of the printing bed and the huge vertical gear shafts.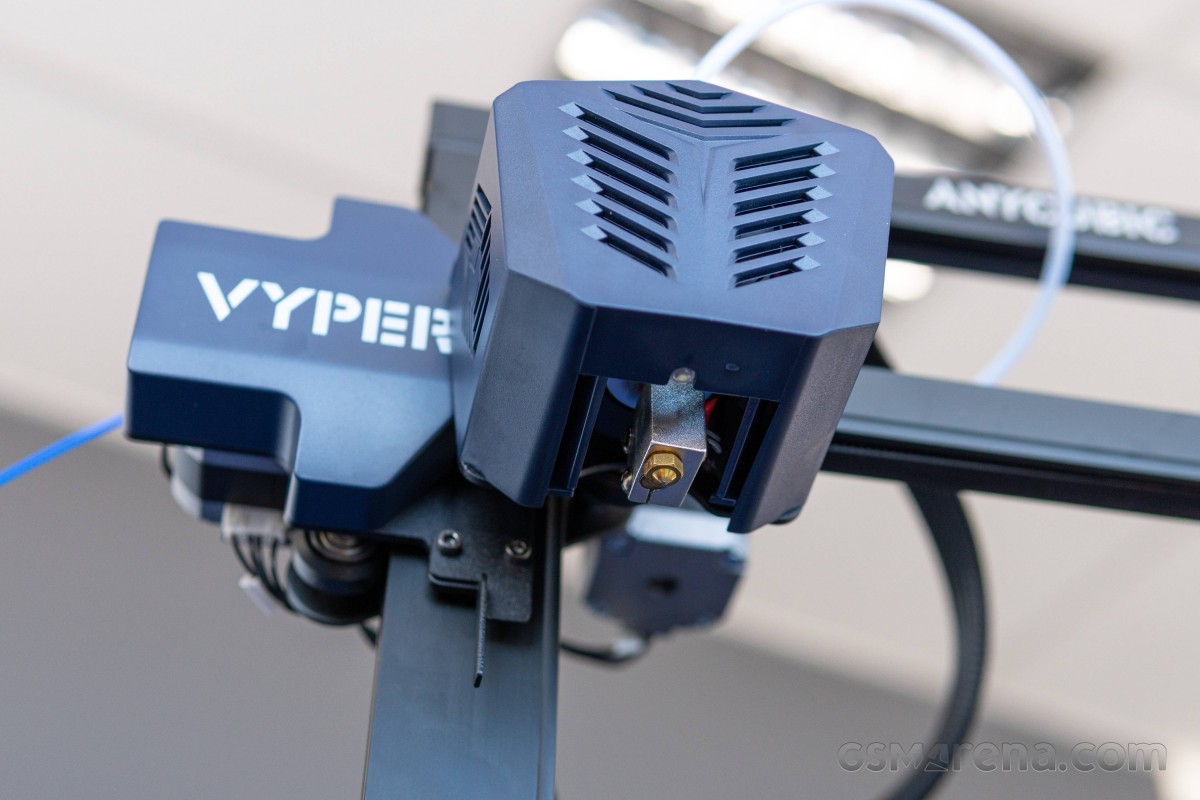 We appreciate that ANYCOBIC decided to make the print head enclosed, since you really don't want to poke around there while the unit is working. The print bed might be toasty at about 60 or so degrees, but the print head and nozzle can regularly cruise around at over 200 degrees.
We won't be going over every bit of hardware on the Vyper. You can check the following diagrams for an extensive rundown-just some highlights.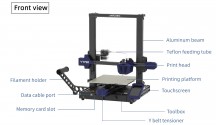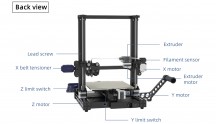 ANYCUBIC Vyper hardware overview
The extrusion system is one of the more important bits on an FDM printer and a typical point of failure. The one on the Vyper looks pretty sturdy and well designed. You get two gears on the inside for better and more consistent tension on the filament. The extruder itself is also compatible with flexible filament, though you will probably have to adjust the tension to accommodate it. That is done manually as is the norm and can be difficult for a novice user to get right. Basically, if the material gets extruded not uniformly, you have to tighten it up and if you think the lines are too thin, loosen it a bit. ANYCUBIC offers a rough suggestion in the manual. They say the torsion bolt should stick out around 18mm.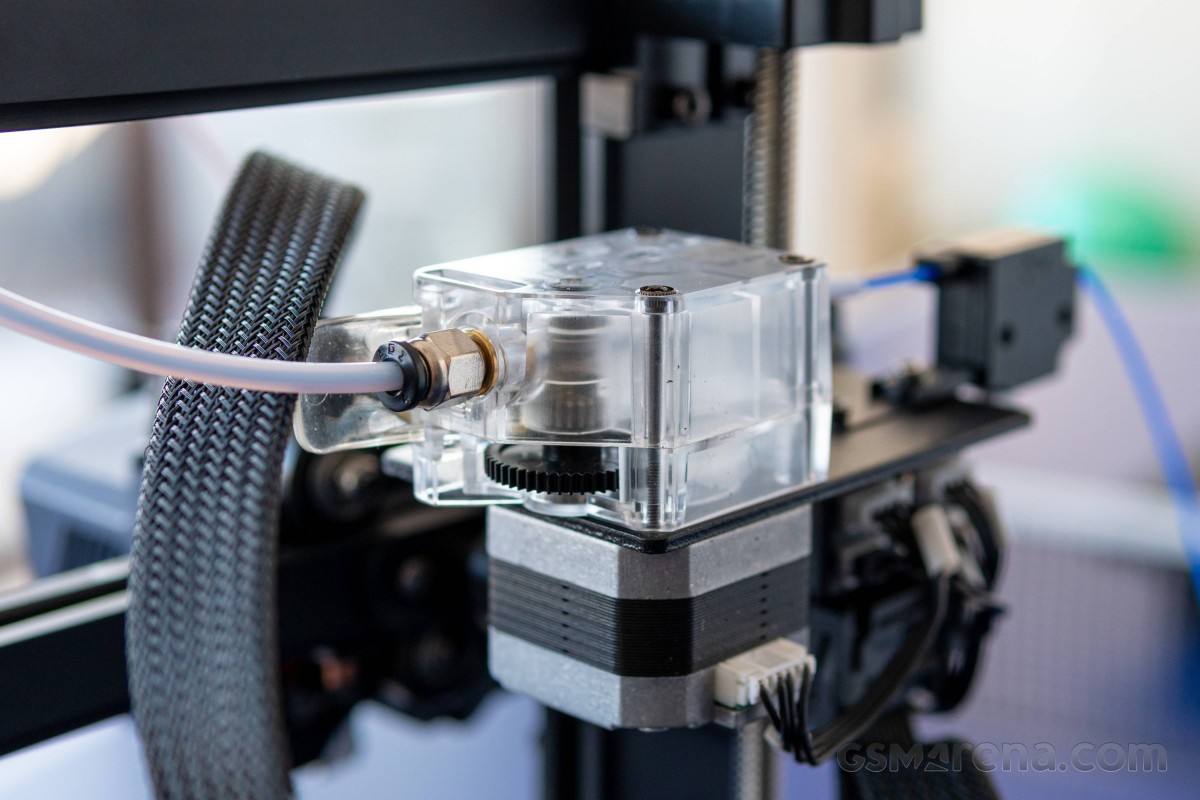 Since we are already on the topic of lines, let's talk z-axis precision for a bit. First, the big feature the Vyper has going for it – auto leveling. If you have any experience with FDM 3D printing, then you likely know the woes of ensuring a lever print bed. It is essential to get good adhesion and prevent warping and all sorts of other defects. Traditionally, it is done manually on most printers by tightening and loosening different points on the bed while sliding something like a piece of paper between it and the print nozzle. It is tedious and has to be done surprisingly often since the bed can warp or get otherwise misaligned.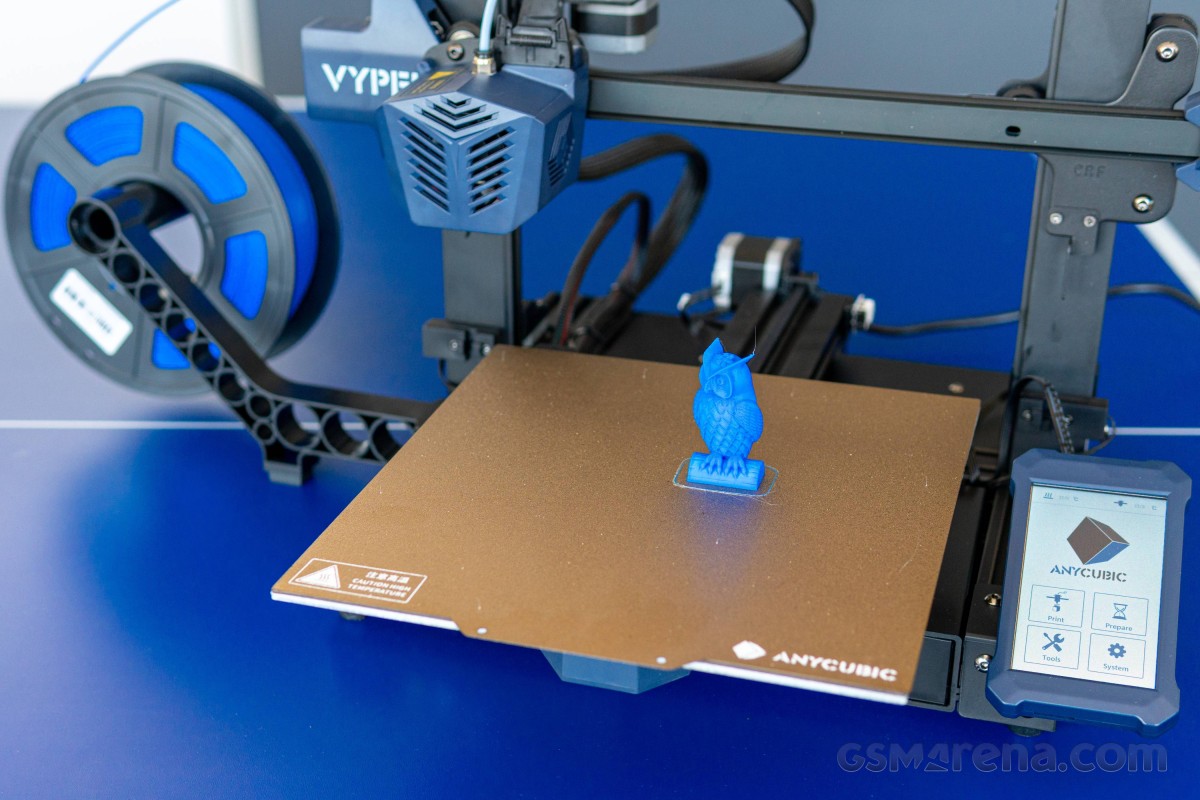 The Vyper has an automated leveling process. ANYCUBIC doesn't actually share exactly how the physical aspect of the leveling is done, but it involves a "precise pressure strain gauge" and the print head going around and bottoming out all the way down to the print bed at 16 different points. That would be a viable way of measuring distance, but we aren't sure how the actual adjustment is made.
Either way, the admittedly lengthy procedure works great as we have been moving the Vyper around quite a bit and flexing and reseating its magnetic print bed between prints and never actually experienced issues we would attribute to print bed misalignment.
Eliminating manual leveling alone is a huge deal that really lowers the complexity barrier to entry and general annoyance of using an FDM 3D printer. It seems to work great in practice, even if it is a bit slow.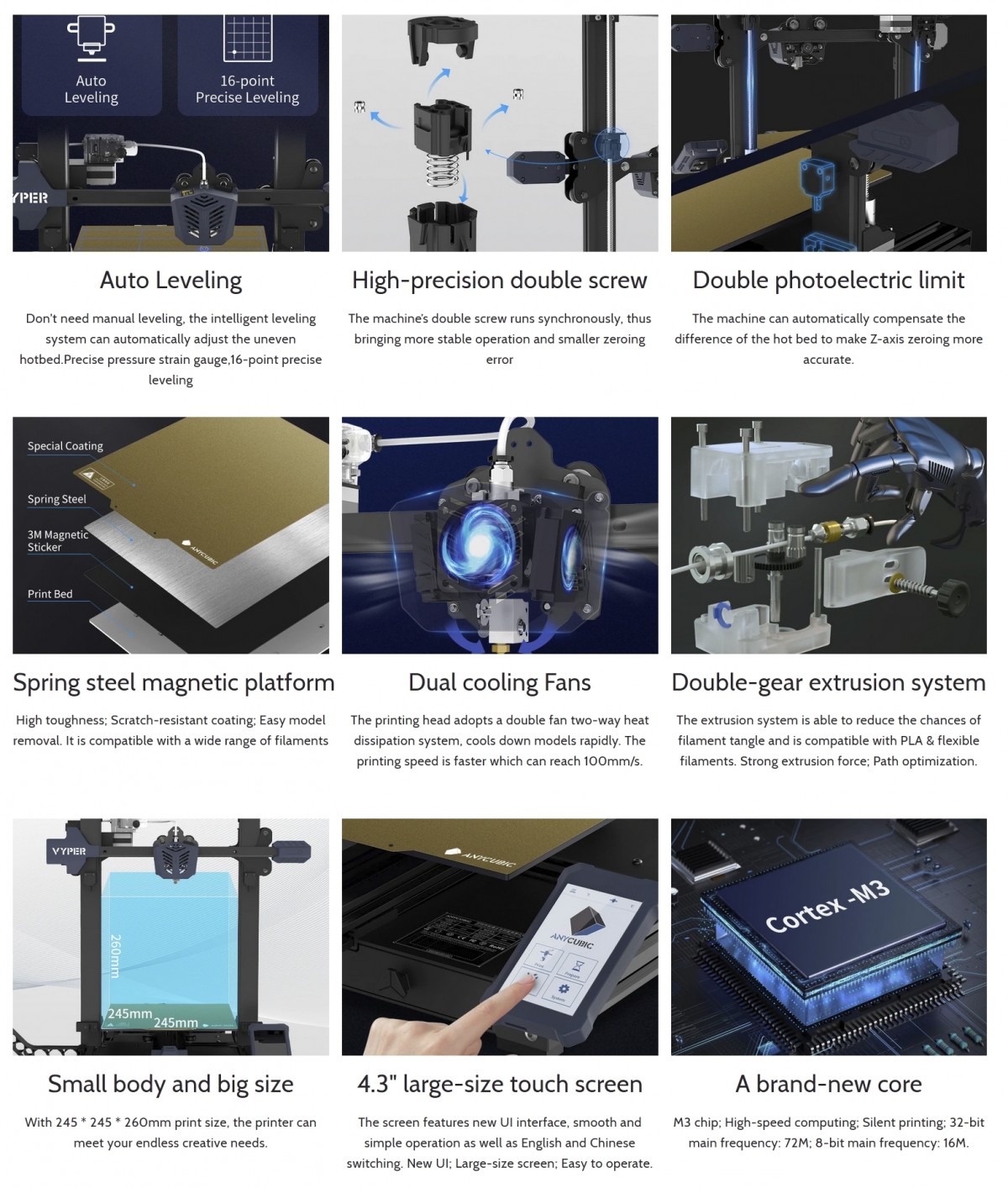 The ANYCUBIC Vyper also has a couple of ways of accurately accounting for the Z-axis difference. The Z-axis has a double photoelectric limiter, which lets it detect where the print bed actually starts and automatically account for extra thickness from added layers on top. If you still notice that the first one or two layers are too thin or too thick and don't stick properly, there is a software override while printing that can increase or decrease the Z offset.
In order to assure maximum vertical precision while moving, the Vyper has a double screw system that makes the motion smoother, more precise and quieter.
And the Vyper is impressively quiet overall. The motors and all of the gears are pretty low-noise, and so are the fans. The two cooling fans for the print head are likely to be the biggest noise generator in the system, but even they are very reasonable noise-wise.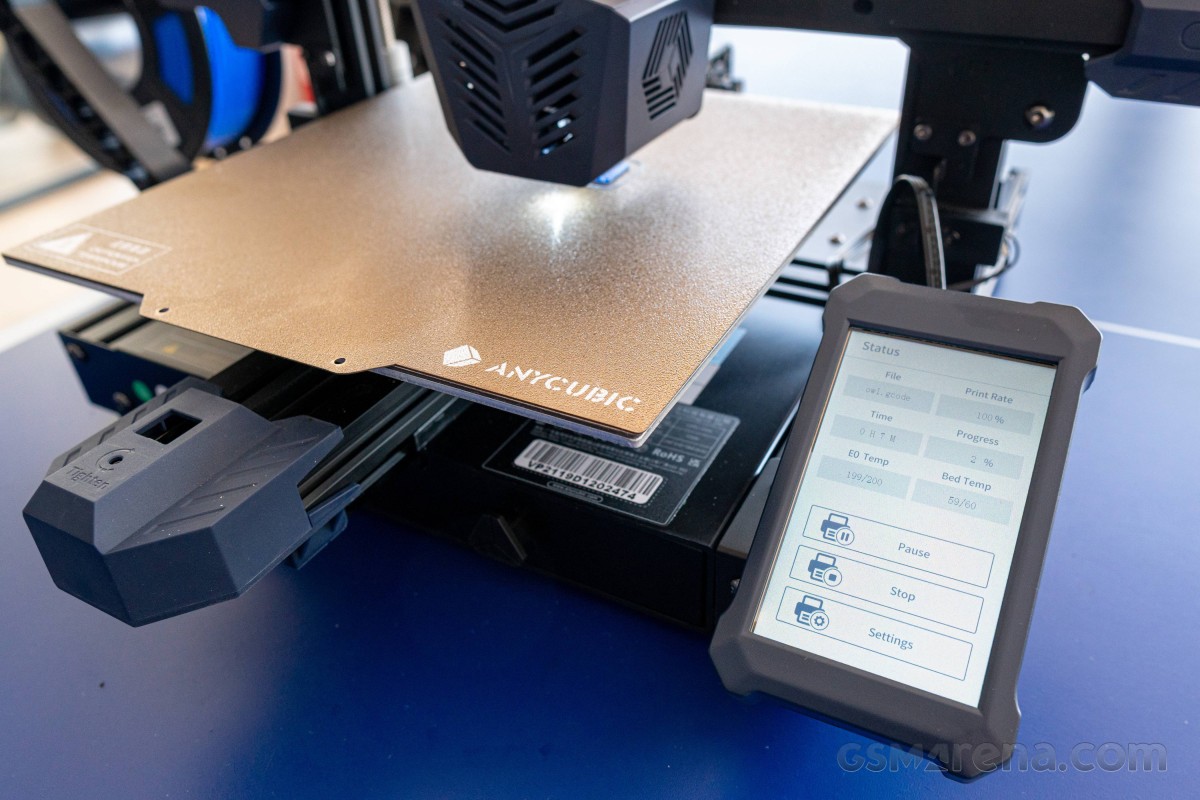 The Vyper has a nifty resume from outage feature as well. What it basically does is remember your current printing status and progress. Then if the power cuts out, you can just continue the print after it comes back most of the time instead of having to scrap it. Neat!
Closing off the section, we should talk about actual controls for a bit. The 4.3-icnh touch display is pretty big, though not overly responsive, and the ANYCUBIC UI, which we discuss in a bit more detail in a bit could benefit from bigger fonts and more information here and there.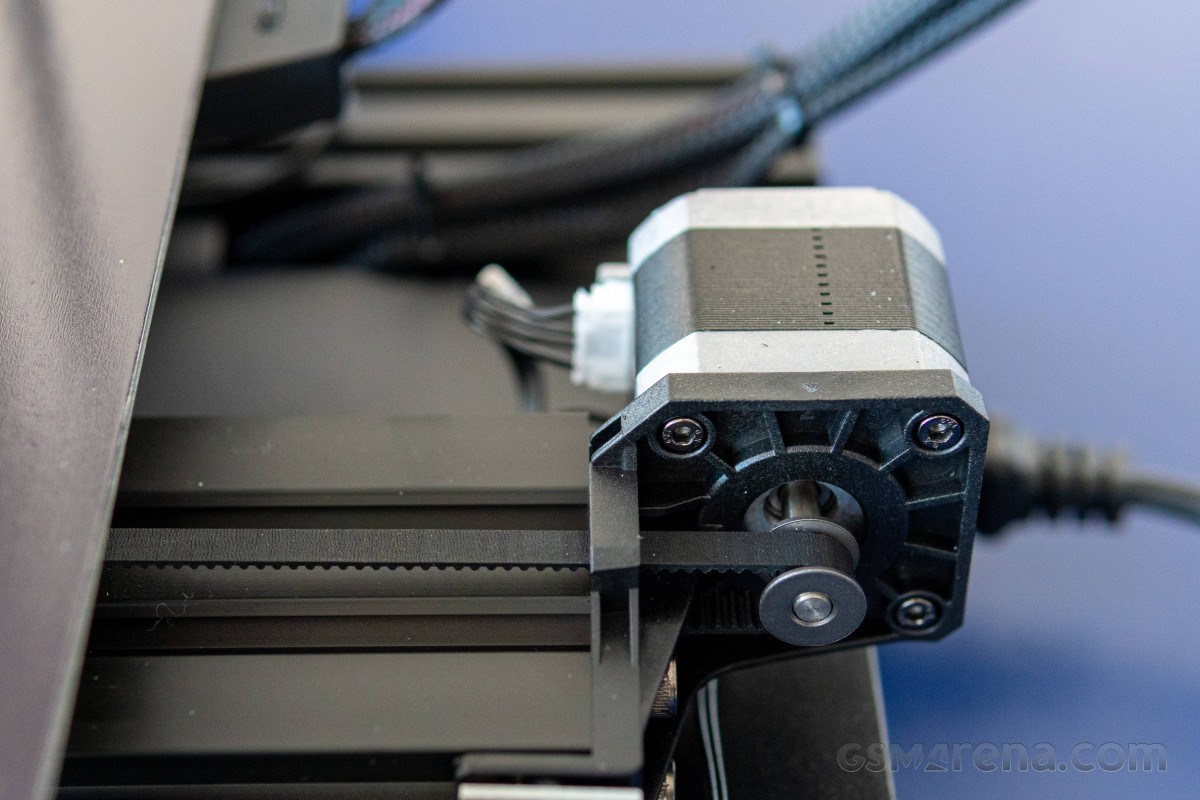 Plus, we have to point out that the complete lack of physical controls like buttons or a knob is less than ideal. Depending on your use case and operating conditions, it might not be an issue for you, but it becomes a massive problem if you typically wear gloves.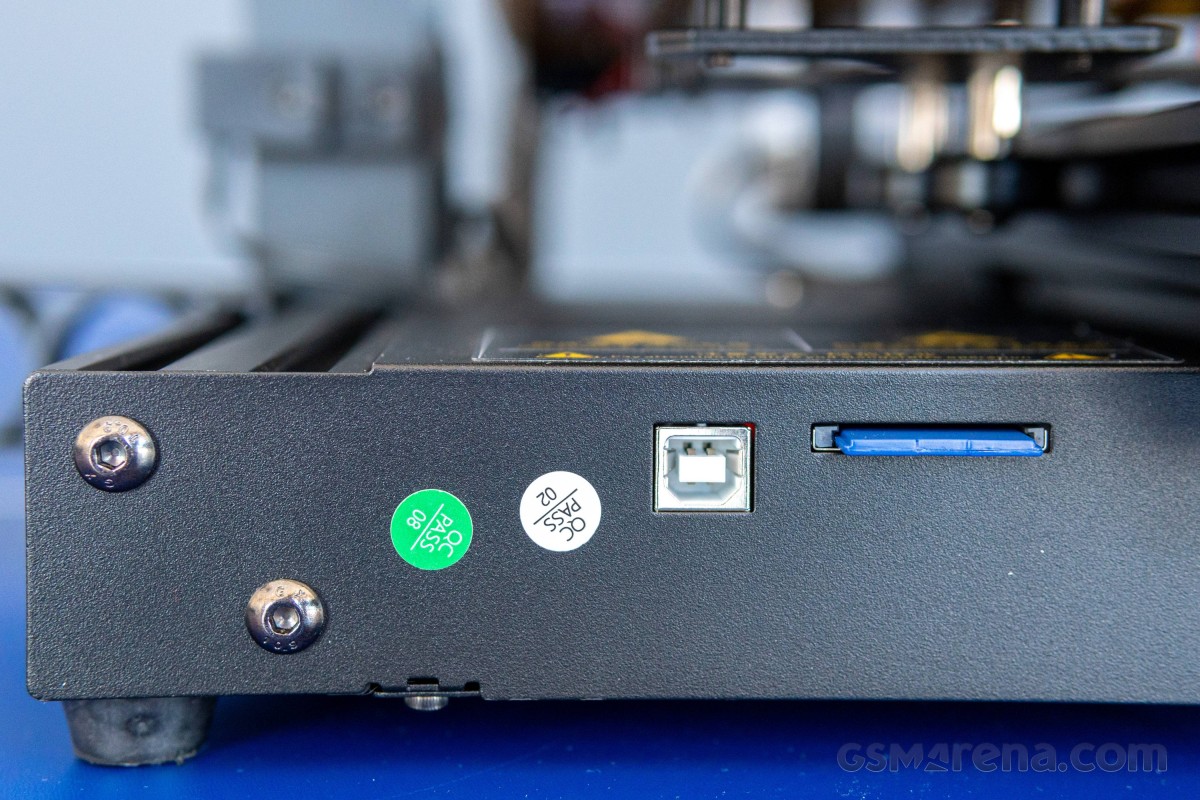 In terms of ports and I/O, while we get why all of these are all close to one another, we would have preferred to have the Type-B USB cable port on some other side of the unit. Also, the SD reader is in an odd orientation where the card has to go in with the contacts up, which is not really an issue but could have been indicated in some way. Also, we would have loved to see a USB Type-A port for a flash drive.
Printing and UI ease of operation
We won't be going through Cura, the whole process of preparing 3D models, then slicing them and generating GCode instructions. These are all general 3D printing steps, each with its own challenges and nuances and beyond the scope of the review. Suffice it to say that ANYCUBIC provides great step-by-step instructions and even pre-made configuration profiles to set up Cura to properly work with the Vyper. The rest is up to the operator to handle. We won't be discussing "online" printing with the unit connected to the computer via USB since that is not the typical usage scenario most of the time, but rather a more advanced and specialized way of using an FDM printer.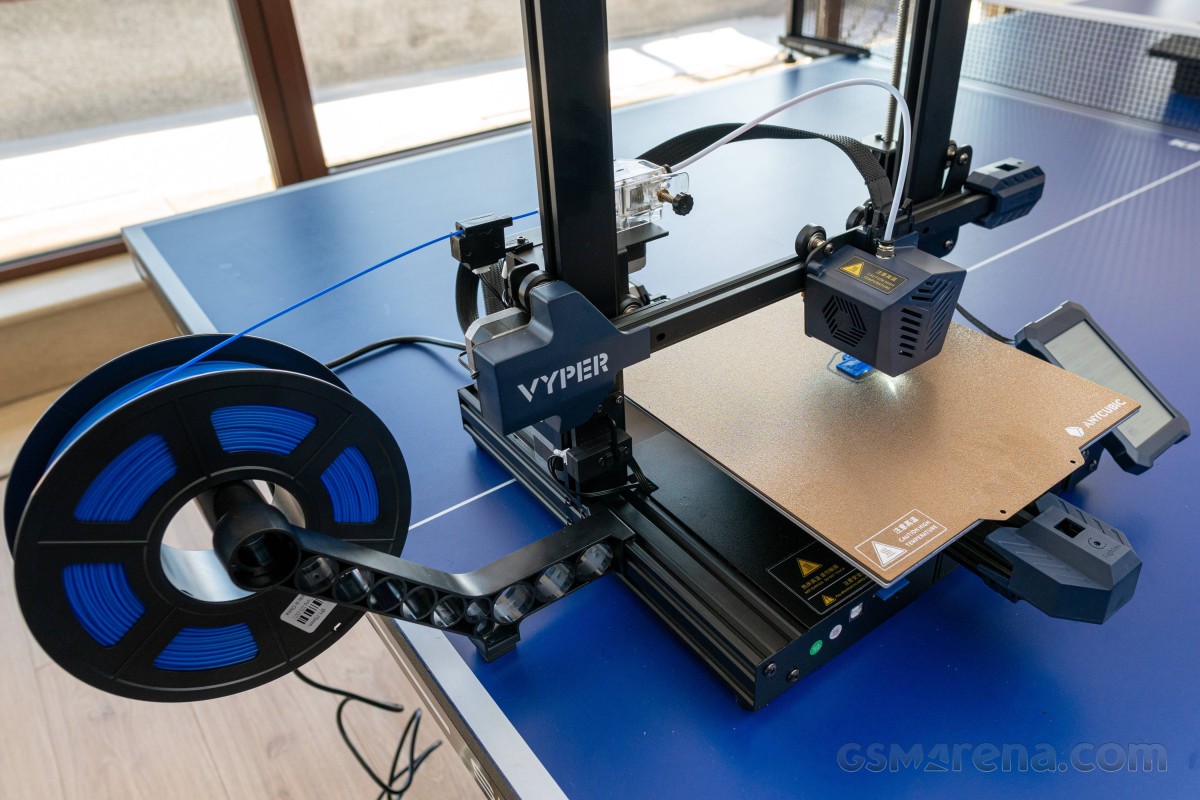 We will provide some notes on the general operation of the Vyper and its UI once you have your print job prepared and the GCode file on the SD card. The included file browser is very rudimentary.
It is not particularly responsive either. You have to click a few times just to select a file, and that selection is not obvious since it just changes the color of the font to red. The File manager can't navigate inside folders, so all of your GCode files need to be at the root level. Not ideal.
Once a file has been selected, you don't get any further details before you start the print. There is no preview of the model, so you can make sure you are starting the right job, no time estimate, nothing. Just the temperature readouts for the print head/nozzle and the printing bed, as well as the target values that need to be achieved and are set for the current state of the print job.
You can tweak parameters on the fly as the printing job is ongoing, including the z-axis offset mentioned earlier, which can help you save a print that would otherwise have to be scrapped. The only things you really get in terms of status indicators are elapsed time and a progress percentage. That last one seems to be based on the current layer number and the total number of layers, and as such, it is quite deceiving since it does not consider the size of each layer. An ETA would be greatly appreciated as well.
Circling back to the home interface, we do appreciate how clean and orderly that is. We just went over the print options. The prepare menu has a trigger for the auto-leveling routine, a menu to initiate pre-heating of the print bed and print head/nozzle, a menu for loading in the filament, and an automatic pre-heat procedure for that as well.
The tools menu has all of the options to manually move the print head and the print bed along all of the axis. System has the firmware update menus and some software info. You can also choose a language for the UI from here. Currently, the options are English and Chinese.
While we appreciate the current temperatures on top of this UI, the font there is way too small. Also, those values don't persist throughout all of the menus and are just found on the home page, which is not ideal.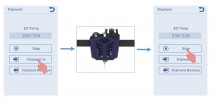 Filament loading and removal menu
Overall, the UI is usable and fairly straightforward, but also rudimentary and missing any quality of life features. It could use some extra polish.
Print quality
We tested the Vyper using one of ANYCUBIC's own PLA filament. A nice blue spool of 1.75mm stuff, with a rated working temperature between 200 and 230 degrees. You can check in out here-pretty standard stuff and nothing too special.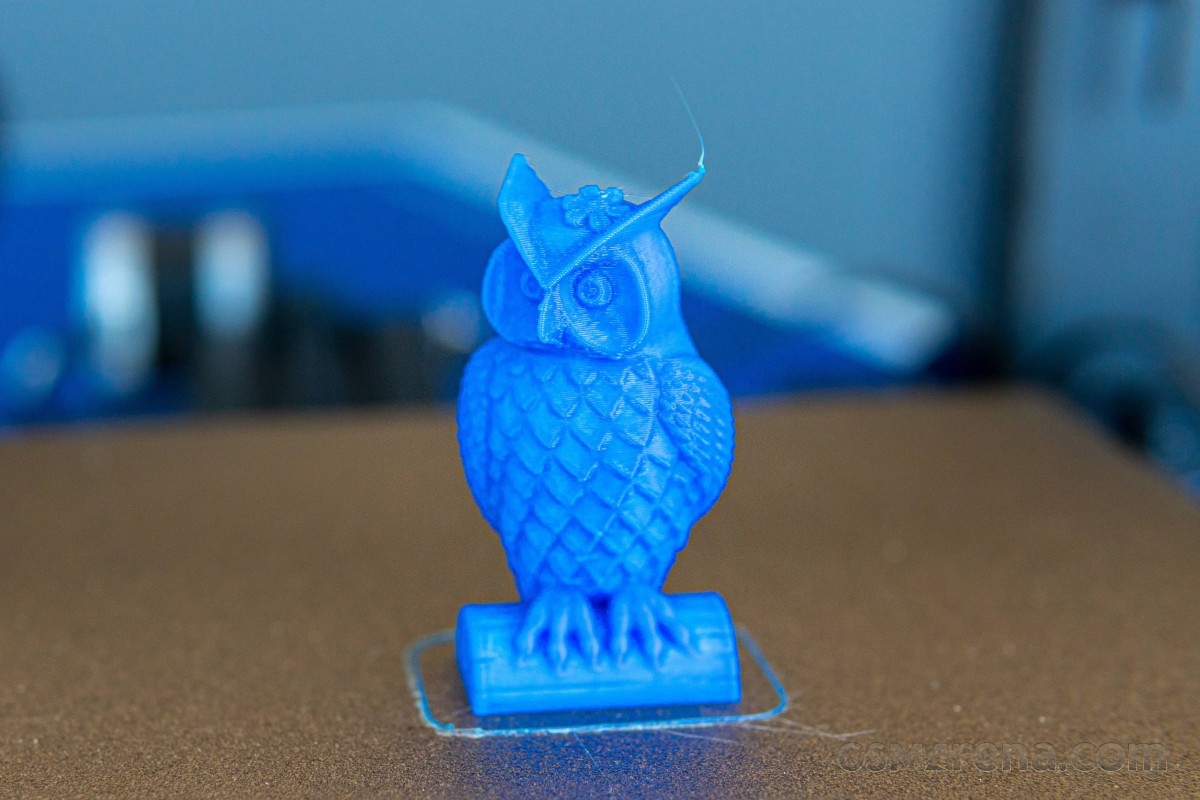 Our first print was the included owl test model. It came out looking great with plenty of fine detail and no major errors. We did have to move the GCode file to the root of the SD card for the Vyper to even read it since it was not there, to begin with. That just comes to show why the file browser needs some work.
Since the owl came as a pre-made GCode file, it wasn't particularly representative of the actual performance you can expect from doing a whole print by yourself – model, through Cura and slicing with the provided profiles settings. We did just that for this pretty tough test pattern, courtesy of ctrlV. It was printed exactly as the author prescribed – with a raft, at 0.1mm resolution, which should be the maximum of the Vyper and at 30% infill. All of the other settings were taken from the provided config profile. And we made sure to print the version optimized for the 0.4mm nozzle of the Vyper.
We would call the results a pass, though far from perfect. You can see the full list of aspects being tested at the above thingiverse link, but we would say that in terms of accuracy and measurements, the Vyper did extremely well. The same goes for arches and overhangs. The really fine resolution was a bit of an issue, and the spike test seems to have really tripped the Vyper. It left behind a lot of unnecessary material, which is likely due to over-extrusion and should be potentially fixable with a combination of extruder tension and temperature adjustments. Failing that, maybe switching to a different filament will help.
All things considered the ANYCUBIC Vyper offers great quality printing out of the box, which could potentially be further improved with fine-tuning settings on the user end.
We did some other less torturous test prints as well, like this ear-piercing whistle, which turned out just great as well.
Final thoughts
The ANYCUBIC Vyper is an intriguing new offer from a reputable manufacturer in the space. It is a solid machine that offers great print quality out of the box and is easy and intuitive to use.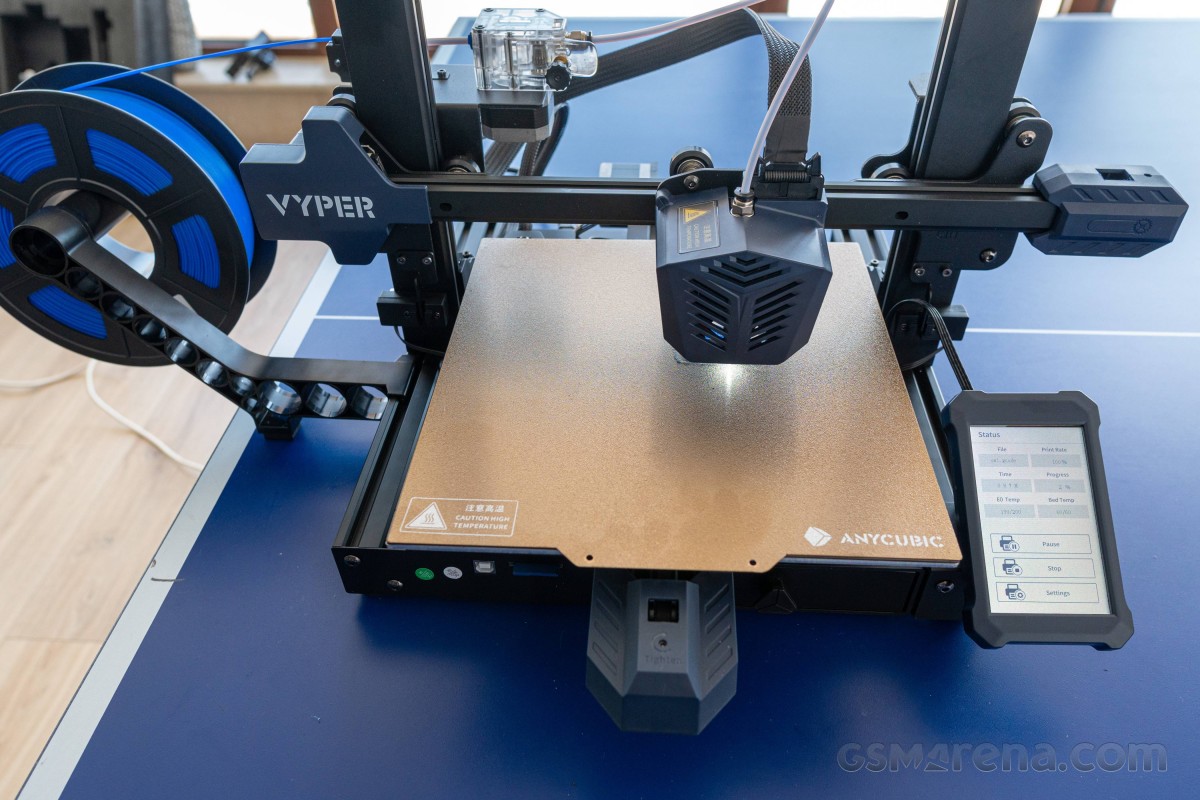 Its interface is rough around the edges and rather basic. Even so, it is simple to use and thankfully did not hinder the otherwise great hardware from shining.
And when you conside the Vyper's generous print volume and its auto-leveling feature it's easy to justify iys price.