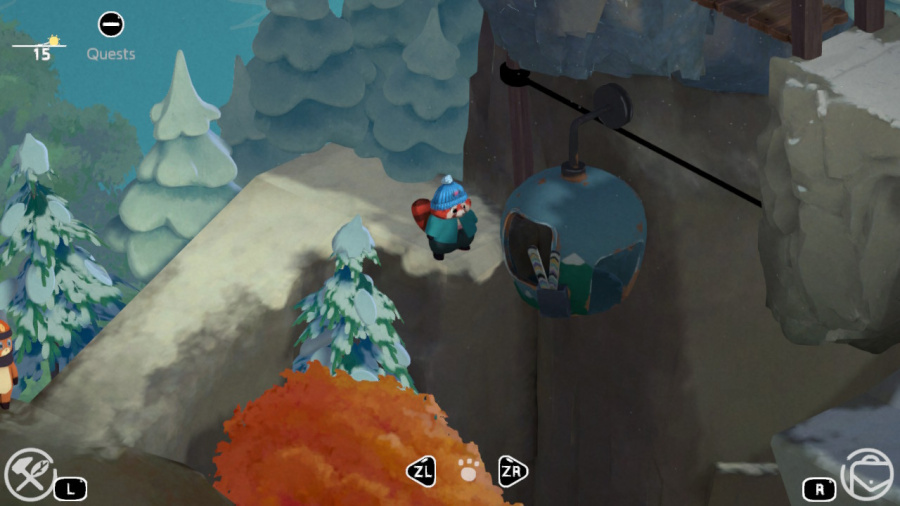 It's a tale as old as time: the hero defeats the enemies, then rides off into the sunset. But what happens next? In Aka, we find out. This open-world life sim comes from solo developer Cosmic Gatto, a pseudonym for a former DreamWorks animator. It follows the eponymous and adorable Aka, a red panda who is also a retired soldier. Aka may be soft and fluffy, but he's the centre of something a little rough around the edges.
The game opens right at the end of 'the great war'. Aka (Japanese for 'red') walks off the battlefield and takes a boat to Pine Tree Island to reunite with his best friend Thom and use his katana to cut wood rather than limbs. It's the beginning of his new life. The island is a secluded slice of paradise where the grass grows wild and the neighbours include an array of characters who are colourful both inside and out. Here, Aka can spend his days tending to his farm and his neighbours' needs.
This game champions resting, as it forces you to slow…right…down. It doesn't have a linear narrative, so rushing through is impossible. But rushing is not the point. You're supposed to spend hours chopping trees, foraging for mushrooms and seeds, and waiting patiently for those seeds to grow. Then you'd look up from your screen and realise the sun has gone down outside – the ultimate mark of a good game. Like Aka, we often find it hard to relax in our ~busy modern lives~ so this is a nice reminder to take breaks when we can.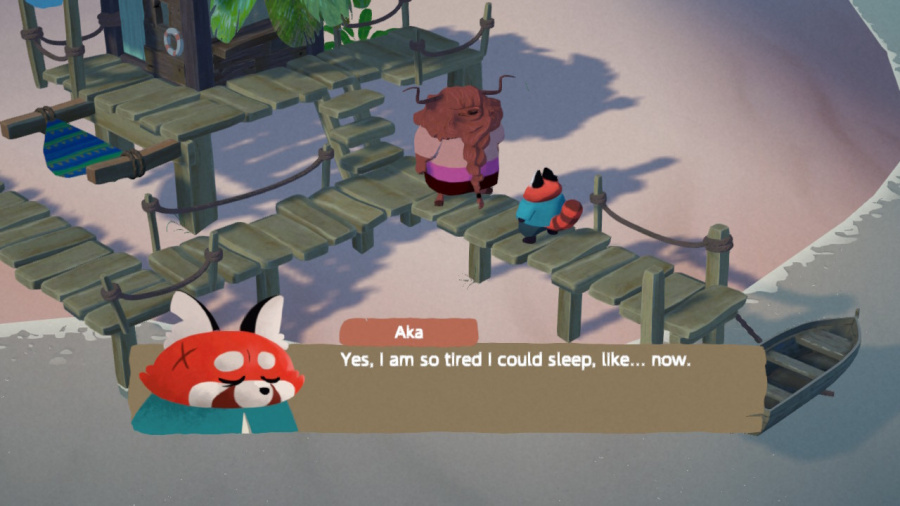 The direction isn't always clear, which seemed okay at first as independent discovery is the object of an in open-world game. It was nice loafing around Pine Tree Island and commuting to town to exchange rubbish for seeds or play some minigames. But if you have trouble moving beyond the first island (as we did), exploration becomes limited. We didn't mind sowing seeds and cutting grass for a few hours, but after that, we felt a little lost. Some more tutorials at the beginning would have been helpful, or even just a guide with tips that we could refer back to.
In the version we initially played, we had to unlock Aka's ship to travel beyond the first areas to other islands. We ran into a glitch in this quest and it was a little frustrating trying to do it. It's been removed altogether in the most recent patch – and it's great to see that Cosmic Gatto continues to address issues with the game. The ship is key because it opens up a whole world of different locales and climates in three other islands, also named after trees: red leafy Maple Island, tropical Palm Island, and traditional Japanese-inspired Bamboo Island.
Farming requires some complex strategies, with permaculture-inspired combinations of crops. For example, carrots and onions go together because they attract and deter different pests. The goal is to create optimal conditions for growing crops. Aiming with the hoe and watering can feels a bit cumbersome. Farming isn't central to the game, though. There's no currency, so harvests are not for turning profits – just completing quests or recipes.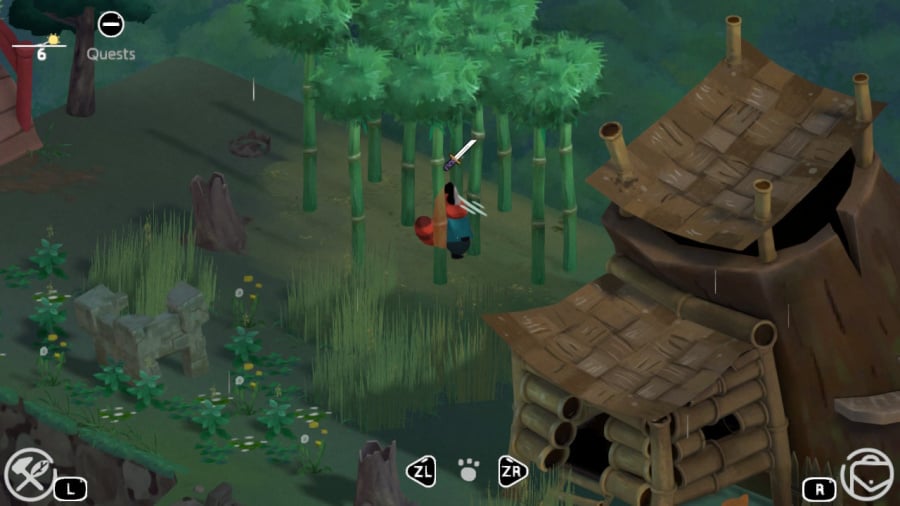 The days are short (about 10 real-life minutes for an in-game day), which is fine because you don't need to sleep, although you can curl up on a hammock or atop a giant capybara (!) to nap. You also don't need to eat but it's worth doing to see Aka's munching animation.
There are ghosts that haunt Aka, too, but they're cute ghosts, we promise! They'll usually describe a moment where Aka wronged them when they were alive. As retribution, you'll need to bring them an item or sometimes just listen to stories with wholesome lessons like "even invisible souls need attention". The tales seem designed to guilt-trip, though they're never quite emotional enough to stir us the way Spiritfarer did.
It's obvious a lot of work has gone into the game's art style: hand-painted watercolours viewed from an isometric camera angle. The background is a little impressionist, and light and shadows shift as the day goes on. The lush greens capture the 'back to nature' vibe that reflects Aka's retirement, while the slow-paced movement mirrors his own attempt at slowing down. Cosmic Gatto's animation roots are evident in Aka's giggle-worthy waddles, bobbing tail, and twitching ears. The lilting flute and piano-led tunes also harmonise with the ponderous pace.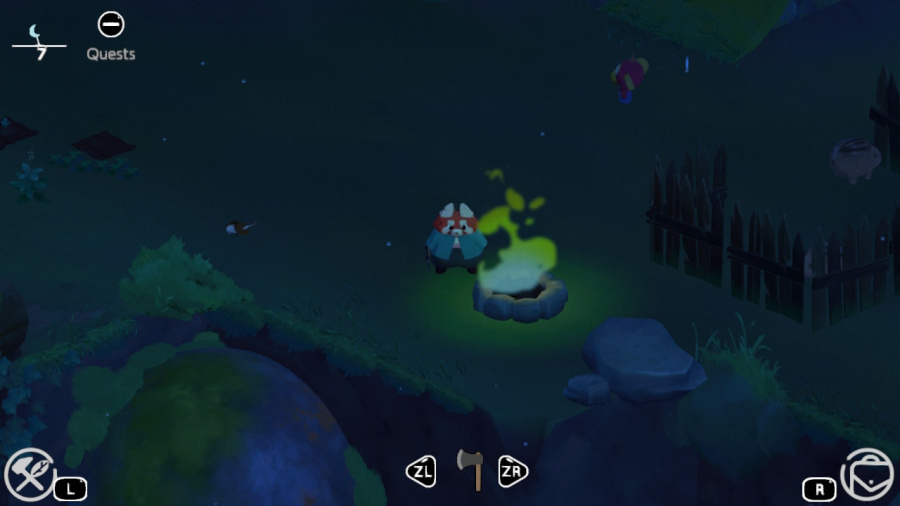 There are additional issues that hamper gameplay and halt progression, which we found frustrating. We struggled to move or stack things between storage and inventory. When we managed to craft something, we often couldn't place it. And poor little Aka got stuck in a pose whenever we opened the backpack, so that he just glided around on the ground. There were also moments where quests didn't clear even after we'd fulfilled the requirements. These glitches detracted from the meditative fun intended by the game. That said, a few bugs have already been squished, and Cosmic Gatto has said tweaks are happening as we write.
For all its cuteness, Aka falls ever so short of ideal enjoyment, with glitches spoiling an otherwise fun game. We believe this has the potential to become a joyous and comforting favourite. As it stands, it's a beautiful game, though the seams show a little too much for it to be great.
Conclusion
In Aka, you get to be a cute hero in a pretty landscape, taking naps and strolling through trees. So dreamy! It's just a shame the game has launched with this many bugs. The frequent stalling of progression and basic tasks is a little wearisome and players need a little more paw-holding to grasp the objectives. At this stage we'd recommend waiting for a few more patches, then playing the game in all its fluffy glory. That way, you get to soak up a red panda's life of luxury. Who wouldn't want that?